GUATEMALA CITY, Sept. 5 (Xinhua) -- The death toll from the landslides that occurred on Saturday night in west Guatemala has risen to 54, official sources said on Sunday.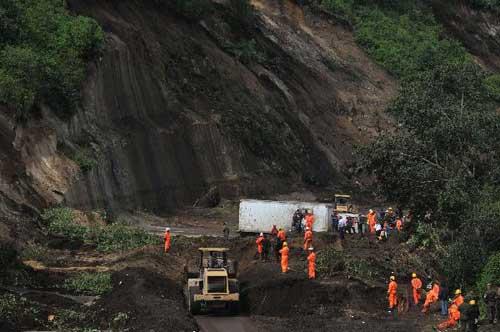 Rescue workers look for survivors at a mudslide area in Nahuala, western Guatemala,
Sunday, Sept. 5, 2010. At least 54 people were killed after torrential rains caused
mudslides in different areas of the country. (Xinhua/AFP Photo)
The sources said that rescuers found 18 more bodies, bringing the total number of confirmed deaths to 54 from the earlier announced 36.
On Saturday night, a major landslide on the Inter America highway buried five vehicles and a passenger bus.
A second landslide reportedly occurred at the same place when the rescue teams were trying to dig out the victims buried by the first one.
About 150 rescuers worked with tractors and excavators to rescue the victims, but downpour rains forced them to suspend the operation, spokesman of the National Coordinator of Disaster Reduction David de Leon said, adding that rescue work will resume as soon as the rain turns smaller.
"We do not want to put the rescuers at risk. We have worked hard, but the rain does not stop. There are also thunders and lightning, and there is fog, too. Working under these conditions is almost impossible," Municipal Firemen's spokesman Jose Rodriguez said.
Related stories