BEIJING, Sep. 6 (Xinhuanet) -- More than 30,000 people from 47 countries have applied to become "pambassadors" since the Chengdu Research Base of Giant Panda Breeding in the capital of Sichuan province announced last month it would select six people to spend a month with pandas at the base.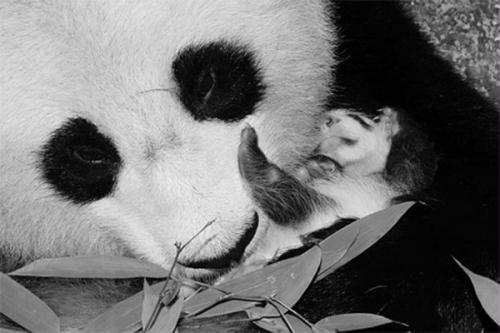 This undated photo shows Cao Cao, a female panda that gave birth to a cub on
Aug 3 in the China Conservation and Research Center for the Giant Panda in
Wenchuan county, Sichuan province, holding her baby. (Source: CNS/Zeng Changxia)
The research base had announced during the Sichuan Week at the Shanghai Expo that it had launched "Project Panda", an online competition seeking six panda enthusiasts who would serve as a panda keeper, photographer, videographer, journalist, scientist and researcher.
The project is being held in partnership with the World Wide Fund for Nature (WWF).
The six lucky winners will stay with the locals in close proximity of the base, where they will also witness the birth of panda cubs, said Zhang Zhihe, the chief of the base.
Twelve finalists will be short-listed on Sept 23 and will begin a weeklong training course in Chengdu before the winners are announced, he said.
Many of those who have applied are true panda enthusiasts, Zhang said.
He told China Daily of Oliver, a French teacher whose bedroom is filled with panda images on his T-shirts, murals, toys, hats, pillows and sheets. Jeroen Jacobs, a Belgian, has his own panda website that tells how many pandas there are in the United States and which panda would give birth in a Japanese zoo. Christina, another applicant, is a Harvard student who once missed the plane in Beijing because she stayed too long in the Beijing Zoo to see the pandas.