URUMQI, Sept. 5 (Xinhua) - China will upgrade an annual trade fair held in Urumqi, capital of Xinjiang Uygur Autonomous Region, to a leading trade platform in the heart of Eurasia and to boost cross-border economic cooperation in a region vulnerable to unrest and violence.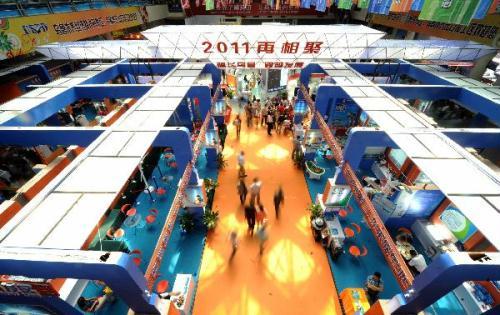 People visit the 19th Urumqi Trade Fair in Urumqi, capital of northwest China's
Xinjiang Uygur Autonomous Region, Sept. 4, 2010. The five-day annual trade fair
closed on Sunday. The Chinese government has decided to upgrade the Urumqi Trade
Fair to the China-Aisa-Europe expo since 2011. (Xinhua/Wang Fei)
The China Urumqi Foreign Economic Relations and Trade Fair, which closed here Sunday, will be re-launched as China-Eurasia Expo beginning next year, government organizers said, and it will become an important exchange platform for the Shanghai Cooperation Organization, which includes China, Kazakhstan, Kyrgyzstan, Russia, Tajikistan, and Uzbekistan.
"The upgrading is overall and comprehensive," said China's Minister of Commerce Chen Deming, who heads the China-Eurasia Expo Organizing Committee.
He said the Expo will serve as China's platform to reach out to the entire Asia and Europe rather than just central and south Asia.
Though details of the expo is not yet clear, organizers and observers said it might include talks to ink trade pacts between regional economies and will cover diplomatic and cultural issues as well.
Foreign trade contracts signed at this year's fair totals 3.613 billion U.S. dollars, organizers said, while project contracts --including domestic deals--reached 126 billion yuan and cover a broad field of mining, crude oil processing, construction and tourism, among others.
Related stories