SANTIAGO, Sept. 5 (Xinhua) -- The 33 miners trapped in a copper mine in northern Chile have set a survival record inside a mine and they are in good mental and physical conditions, doctors and rescuers say.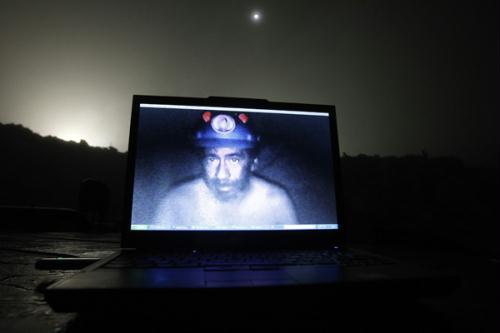 A computer screen shows one of the miners trapped underground in a copper and
gold mine, inside the mine at Copiapo, some 725 km (450 miles) north of Santiago
August 26, 2010. Thirty-three miners trapped for 21 days in a Chilean mine may
get videos of Maradona and other soccer greats to beat boredom as they face
several months deep underground until they are dug out. Picture taken August 26,
2010.(Xinhua/Reuters Photo)
The miners have been trapped 700 meters underground since the mine, located some 800 kilometers north of Santiago, collapsed on Aug. 5.
These miners have set a new survival record inside a mine, breaking the existing record of three Chinese miners, who in 2009 survived 25 days inside a mine.
The rescue of these miners could take three or four months, although emergency workers have already sped up their rescue operation by using three drilling machines to open a tunnel, government sources said.
Meanwhile on Sunday, the miners' relatives commemorated their first month underground by blowing the horn of their cars.
"All of us are going to horn at 2:30 p.m." local time, and they will sing songs for them as "there is pain because the time is passing," Elizabeth Segovia, sister of one of the trapped miners said.
On Saturday, the miners were able for the first time to have a video conference with their relatives.
The first contact with them was established on Aug. 22, when they had spent 17 days inside the mine.