Mountains, water, fresh air, lush greenery, and good food - all just two hours southwest of Beijing. Shidu in Fangshan district offers everything you could want if you're looking to leave behind the stress of city living for a day or two. Lifestyle had only a day to explore the area, but we left feeling refreshed and invigorated.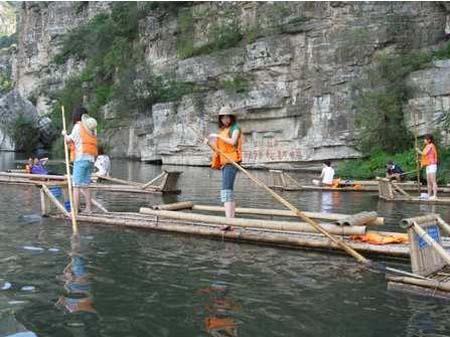 Take a bamboo raft downriver in Shidu. (Photos: Song Yuanyuan)
Shidu literally means "Ten Ferries," and the tour guide told us the name had its origins in the old days when the Juma river ran too fast to build a bridge over it, so instead the people nearby built a ferry at every big bend in the river. In the end, there was one village that had 10 ferries along a distance of just 20 kilometers.
The Karst wonderland
Famed as the "Northern Wonders," Shidu's scenery is renowned for its amalgamation of caves, underground channels and bumpy, uneven topography. The valleys that surround Juma River are made of limestone that's been worn away in unique patterns to create scenery that looks like something out of a Tim Burton movie.
Lifestyle visited one of the most famous sightseeing spots, Gu Shanzhai, located in the south Qi Du (No. 7 ferry) village. The name Gu Shanzhai literally means "lonely mountain village," which comes from its view of three stand-alone mountain peaks. Although Gu Shanzai doesn't have a particularly notable elevation, it's much beloved for its clear creeks and enormous weather-shaped limestone rocks. Several of our travelmates took off their shoes by some flat, smooth rocks and just let the cool-flowing creek water massage their feet for a while.
Gu Shanzhai's must-see spot is called "One Line Sky," and for a must-see, it's really hard to get to. We had to climb up a stairway allegedly carved out of the riverbed and ascend all the way up the petite Gushan Mountain. After a walk along a winding mountain road, we hit a very steep mountain slope. A long, narrow gap - about 60 meters long and as narrow and just about half a meter wide - stood like an ax cut between two sheer stone walls. Everyone became suddenly quiet at this view of nature's strange beauty.