BEIJING, Sept. 7 (Xinhuanet) -- Silicon Valley technology giant Oracle Corp. said on Monday it will hire Mark Hurd, the former Hewlett-Packard Co. Chief Executive Officer, as the president, according to media reports.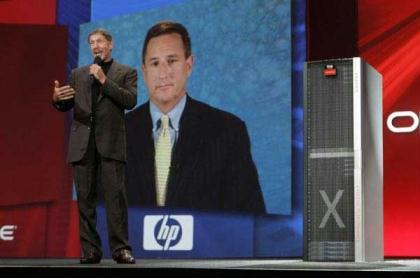 Oracle CEO Larry Ellison (L) speaks via video linkup with Hewlett-Packard
CEO Mark Hurd as the two companies announce the HP Oracle database
machine -- Oracle's first move into computer hardware -- at Oracle
OpenWorld in San Francisco, California September 24, 2008.
(Xinhua/Reuters Photo)
Hurd, who exited HP last month after the company said he violated standards of business conduct, will replace Charles Phillips who has resigned.
Hurd exited HP after an investigation of a sexual harassment allegation found inaccurate expense reports filed by Hurd or in his name.
At HP, Hurd more than tripled profit by cutting costs and expanding beyond the company's core business of computers and printers, according to bloomberg report.
"Mark did a brilliant job at HP and I expect he'll do even better at Oracle," Oracle CEO Larry Ellison, who is a personal friend of Hurd, said in the statement. "There is no executive in the IT world with more relevant experience than Mark."
Oracle, based in Redwood City, California, the world's third largest software maker, competes with HP as well as with International Business Machines Corp (IBM) and SAP, according to Reuters report.
At Oracle, Hurd will push the software maker into the market for servers -- machines that run websites and corporate networks.
Editor:Zheng Limin |Source: Xinhua