Cool wind indicates that summer has come to an end while autumn on the way. Visitors are finding somewhere to enjoy the cool early autumn air instead of relief from the summer heat. Autumn is known as the harvest season, and there isn't anything better than picking fruits outdoors.
Xinjiang Uyghur Autonomous Region: Grapes of Tulufan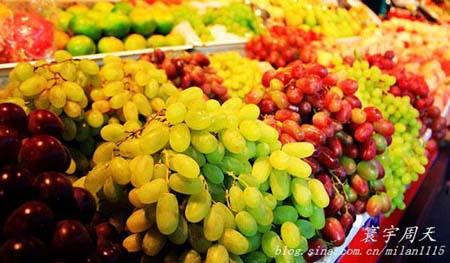 Grapes of Tulufan
The diverse ripe fruits in September and October give Xinjiang the most beautiful scenery, earning the region a reputation as the hometown of fruits. Early autumn is just the right time to enjoy the grapes of Tulufan, which are world-famous for their sweetness and succulence. The Putaogou (vineyard) is a must-visit scenic spot to pick fresh grapes. The most amazing thing is that Putaogou enjoys cool weather despite being located in the hot and dry Flaming Mountain. Visitors can pick grapes from about one hundred species freely under the grape trellis.
Transportation: It will take 2 hours and about 100 yuan to take a bus or rent a car from Urumqi, the capital of Xinjiang Uyghur Autonomous Region, to Tulufan.
Delicacies: kebab, rice eaten with hand, baked bun, toasted Nang, Saute Spicy Chicken, noodles, BBQ.