Local maritime authorities said Wednesday that no accidents have taken place on the stretch of river that runs between the Puxi and Pudong sides of the World Expo 2010 in Shanghai.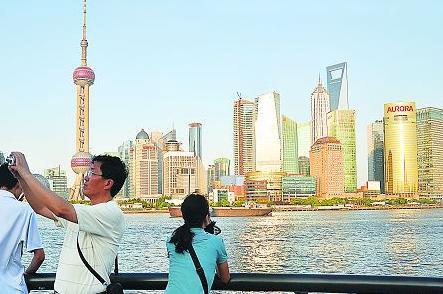 Visitors take pictures by the Huangpu River.
Nearly 20 potentially dangerous accidents have also been prevented on the 7.2-kilometer stretch of the Huangpu River, which is the first stretch of water ever to have run through an Expo site, added Qu Chun, secretary of the Shanghai Maritime Safety Administration.
"Some boats were out of control and risked colliding with one other," he told media Wednesday. "We managed to intervene in time, and we've also caught several drunken boat drivers and dealt with the situation before it was too late."
Qu added that some 132 cases, involving speeding and security issues, were also taken care of, saying that authorities were pleased with how the management of the waterway has been handled.
"We have no previous experiences to refer to, so we've had to figure everything out on our own," he said. "We've worked hard to make sure that things run smoothly down on the water."
During the six-month show, commercial boats have only been permitted to enter the area with special approval from local maritime authorities, while private boats and yachts have been prohibited from navigating along the stretch.
The Expo section of the Huangpu River has already carried more than 17 million visitors to the Expo Park via ferry boat, accounting for 34 percent of the total visitors to the park to date.
Editor:Yang Jie |Source: Global Times