After a gap of 60 years, steam trains are again chugging over the historic Furka Pass in the Swiss Alps thanks to an army of rail enthusiasts and a rescue mission into the jungles of Vietnam.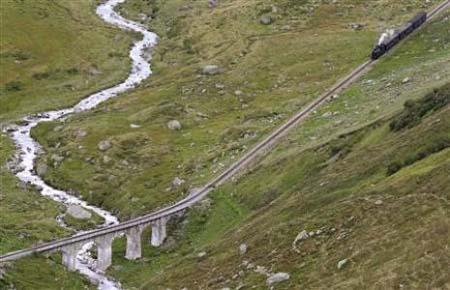 Steam trains reappear on Swiss mountain pass
And with the reopening of the old line between Oberwald and the village of Realp on the other side of the 2,490-meter-high crossing, the region is looking for a return of the tourists for whom it was a big draw since the middle of the 19th century.
"We have waited nearly 30 years for this," said railway buff Thomas Meier as a sparkling black engine with crammed-full olive-green carriages behind emitted a high-pitched whistle as it pulled out of the station of this Rhone valley town.
The last time a train, by then electricity-powered, left Oberwald to head up the steep climb into pine forests and the snow-capped peaks, scene of ski-and-spying escapades in the James Bond film "Goldfinger," was in 1982.
That year the famed Glacier Express, which links the up-market mountain resort of Zermatt to the equally posh St. Moritz some 170 km (106 miles) across the heart of Switzerland, was diverted through a newly built tunnel.
The Furka line, which first started running under steam power through some of Switzerland's most stunning Alpine scenery in 1914, was abandoned to the elements -- or would have been had rail buffs from all over Europe not stepped in.
A team of enthusiasts, many of them retirees from the Swiss state-run train transport system, quickly set up The Furka Cogwheel Steam Railway Club and started gathering funds to refurbish the track and rolling stock.