Every September and October, as if appointed, the poplar trees dedicate the dazzling showy gold in the fall. At present, the fall has arrived in China for some time. The West China welcomes its most beautiful season, especially the golden poplar trees. But their period for viewing only lasts no more than a half month. So quickly pack your stuff and go for poplars!
Ejinaqi, Inner Mongolia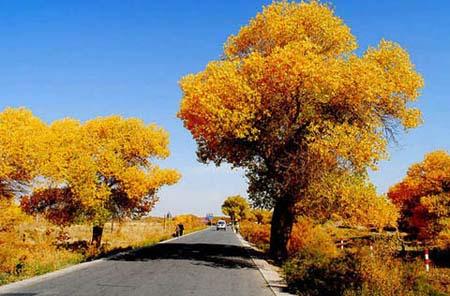 Ejinaqi, Inner Mongolia
Feature: the home of the thickest and oldest poplar tree in China
Best time to visit: around October
Located in Alashan, Inner Mongolia, Ejinaqi is one of the only three extensive poplar woods in the world. Tourists and photographers are enthralled by its amazing autumn scene. There is a famous saying that goes like this: "Without going to Ejinaqi, you will not know the mighty of the oasis; without going to Ejinaqi, you will not know the magic of poplar trees".
The poplar trees in Ejinaqi are mainly distributed along Yidaoqiao to Badaoqiao. Visitors are suggested to spend two days trekking from Yidaoqiao to Badaoqiao. Beautiful pictures come into view one after another. In the sunlight, the golden poplar trees make a sharp contrast to the blue sky, gorgeous and bright. When reaching the Badaqiao Village, visitors can admire the view of Badain Jaran Desert, the most beautiful desert praised by the National Geographic.
The biggest, thickest and oldest poplar tree in China is found in Juyan Oasis (or Ejina Oasis). The legend says it is the only undamaged after burned by Ejina Torgout people more than 300 years ago. Therefore, the Torgout people believed the tree was blessed by God, so they regarded it as the holy tree. It measures 27.5 meters tall and the diameter of the trunk is 6.5 meters. Survived from several centuries, it remains still green and straight.
Travel tips:
If self drive to Ejina, please prepare new tyres for your car and invite the experienced drivers. Visitors can take part in the photograph groups organized by local travel agencies. The go-anywhere vehicle can take visitors across the Badain Jaran Desert.
Advance booking the hotel is required. The local delicacies include mutton eaten with hands, braised camel meat and planed noodles.