NEW YORK, Sept. 13 (Xinhua) -- U.S.-Kazakhstan pair Vania King and Yaroslava Shvedova saved a match point to win the U.S. Open women's doubles title through a third-set tiebreaker on Monday.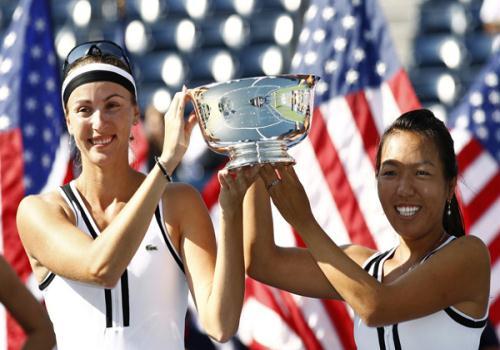 Vania King (R) of the U.S.and Yaroslava Shvedova of Kazakhstan pose with their
trophy after defeating Liezel Huber of the U.S.and Nadia Petrova of Russia during
the women's doubles final at the U.S.Open tennis tournament in New York,
September 13, 2010.(Xinhua/Reuters Photo)
King and Shvedova, seeded sixth, beat second-seeded Liezel Huber of the United States and Nadia Petrova of Russia 2-6, 6-4, 7-6 (4).
The match had been postponed in the third set on Sunday due to drizzle as Huber and Petrova led 5-4 in the other pair's turn to serve.
When the match resumed with King serving in the tenth game of third set, Huber and Petrova quickly earned a match point. But King and Shvedova managed to rally back and prolonged the match into tiebreak.
King and Shvedova established an advantage of 6-4 soon with two championship points before King lobbed the ball past Huber and Petrova for the victory.
It's strange," Shvedova said. "I don't feel like we won, because today was such a short day."
King and Shvedova teamed to win Wimbledon earlier this summer in the first Grand Slam women's doubles for each.
"I was nervous because I was serving and I was down a point, so I was just hoping no double fault," said King.