NEW YORK, Sept. 13 (Xinhua) -- Top seed Rafael Nadal of Spain edged through third seed Novak Djokovic of Serbia 6-4, 5-7, 6-4, 6-2 to win the U.S. Open, the only major that eluded the Spaniard, accomplishing the career Grand Slam accolade on Monday.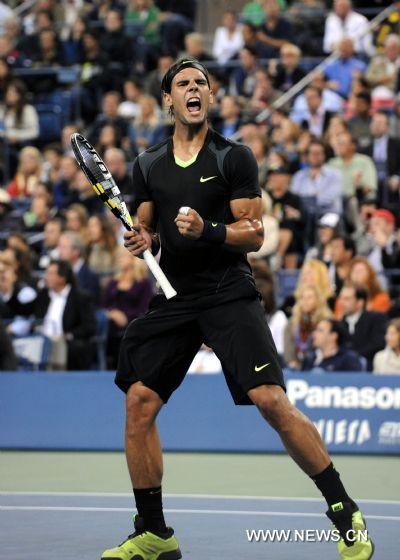 Rafael Nadal of Spain celebrates during the men's singles final
with Novak Djokovic of Serbia at the US Open tennis tournament
in New York Sept. 13, 2010.(Xinhua/Shen Hong)

It was Nadal's ninth Grand Slam title to go with his five French Opens, two Wimbledons and one Australian and it lifts him up to seventh in the all-time list behind leader Roger Federer who has 16.
It also completed the Grand Slam set for the Spaniard, making him the seventh player to have achieved this feat and made him just the fourth man to win three consecutive Grand Slam titles in the Open era dating back to 1968.
Nadal earned a total of 26 break points, converting six, while Djokovic pulled out only four, of which three were taken advantage. The Serb turned out 47 unforced errors (16 more than his opponent) that cut sharply his edge against the hot Spaniard, who is playing in monster form to win three Grand Slams in a row.
Nadal broke in the opening game of the match, but Djokovic broke back to level at 2-2.
Another break for the world number one in the fifth game gave him the first set.
Djokovic led 4-1 in the second set, but Nadal dug in to claw his way back to 4-4 before rain suspended play for 108 minutes.
On the resumption, the Serb held and then broke Nadal for the second time in the match in the 12th game to level the set scores.
Nadal broke again in the sixth game of the third set to move ahead again and steamed up to break twice error-marred Djokovic in the fourth set to wrap up the match in three hours and 48 minutes.
Djokovic is 0-11 against Nadal on clay and grass, but 7-3 on hardcourt before the Open final.
In 2008, Nadal ruled. Last year, he hobbled and might never regain his form. Today, with a 21-match winning streak at major tournaments -- 17 in straight sets -- Nadal is back to his peak.