TOKYO, Sept. 14 (Xinhua) -- Japanese Prime Minister Naoto Kan won the presidential election of the ruling Democratic Party of Japan (DPJ) on Tuesday to remain as the country's leader.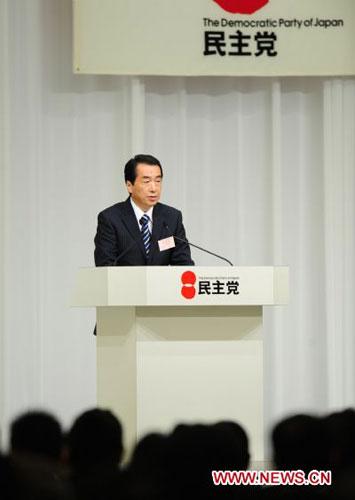 Naoto Kan, leader of the ruling Democratic Party of Japan
(DPJ) and Japan's incumbent prime minister, speaks at the
election assembly of DPJ, in Tokyo Sept. 14, 2010. DPJ
started election of its leader Tuesday afternoon. The
winner will become Japan's third prime minister in a year.
(Xinhua/Ji Chunpeng)
Kan collected 721 points out of the total 1,222 points up for grabs, while DPJ kingpin Ichiro Ozawa got only 491 points.
The DPJ's 411 members of parliament, local DPJ lawmakers and party members chose between the two men. But MPs' votes carry much more weight.
Kan was way ahead of Ozawa, the former DPJ secretary-general, in terms of support from local DPJ lawmakers and party members, and was far more popular among general public.
The voting began after the two contenders deliver their final 15-minute speeches at an extraordinary party convention at a Tokyo hotel on Tuesday afternoon.
Whoever wins party leadership election will become the prime minister, because the DPJ has a majority in the lower house of parliament.
Kan was elected in June after Yukio Hatoyama stepped down over failing to follow through on a promise to move an unpopular U.S. military base from the island of Okinawa.
Ozawa, often dubbed "the shadow shogun", announced his leadership challenge in August after DPJ lost seats in upper house elections in July, a result blamed in part on Kan's stance on raising consumption tax.
Ozawa is widely seen as the main strategist of the DPJ's historic victory in the general election a year ago, breaking the Liberal Democratic Party's almost consecutive ruling for over half a century.
However, Ozawa has since become embroiled in a political fund scandal. He is possibly to be indicted over the case.
Backgrounder:
Naoto Kan, the 63-year-old Prime Minister, is a veteran in the DPJ. <Full story>
Profile of Ichiro Ozawa
Ichiro Ozawa, the 68-year-old former secretary general of the DPJ. <Full story>
Analysis:
Studio interview: Power switch affects Japan's image
Prime Minister Naoto Kan is popular with the general public, while his powerful challenger Ichiro Ozawa has deep support in Parliament. <Full story>
Editor:Zhang Pengfei |Source: Xinhua