MADRID, Sept. 15 (Xinhua) -- US Open tennis champion Rafael Nadal has spoken of his happiness at winning the only Grand Slam tournament that has previously evaded him.
Nadal defeated Novak Djokovic in Monday's rain delayed final to go down in the history books. The win makes the Mallorcan born player only one of seven players who have won all seven Grand Slams and ends a season that has also seen him triumph in the French Open and at Wimbledon.
"I have taken a step forward with the US Open win, because I had never won it before. The last six months have been unforgettable for me and it is incredible to have won all four Grand Slams, because only six players had done it previously," he said in declarations published in Wednesday's edition of sports paper Diario AS.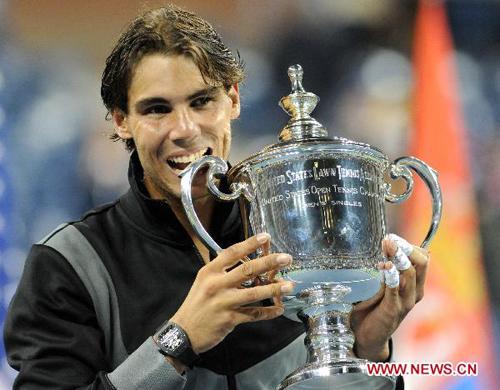 Rafael Nadal of Spain celebrates with his championship trophy during the awarding
ceremony for the men's singles event at the US Open tennis tournament in New York
Sept. 13, 2010. Rafael Nadal won the champion of the event after beating Novak
Djokovic of Serbia in the final 3-1 on Sept. 13. (Xinhua/Shen Hong)
Despite his triumph, 24-year-old Nadal said that he would keep his hunger for the game.
"You never lose the will to win and the desire to keep on improving. I am a calmer person now, but that doesn't mean I have lost the desire to win things."
"While I still retain that hunger, I am going to carry on winning when it is over, I will accept the moment, because tennis is not everything in life."
Nadal was asked about which of his wins had given him the greatest pleasure.
"You remember some of them more than others, but they are all important. My first win at Wimbledon was important, because I had always wanted to win there, while my first win in the French Open was the first time I had won a Grand Slam. The Australian Open was emotional because it was a five set final against (Roger) Federer and the US Open is very important because it means winning all of the Grand Slams and previously I had always had problems there," he said.
However, despite his success, Nadal retains his humility and when asked whether he was the best Spanish sportsman currently in activity, he said others were better.
"It's obvious that I am not. I can't say I'm the best, because I have no idea and it would be incredibly arrogant of me. Every sport has got its own merit. Fernando Alonso opened doors in Formula 1, Pau Gasol did the same in the NBA, while Alberto Contador is a great in the world of cycling."
Editor:Jin Lin |Source: Xinhua