It's time to munch on moon cakes and enjoy the full moon, so head to the Expo, Yu Ran reports.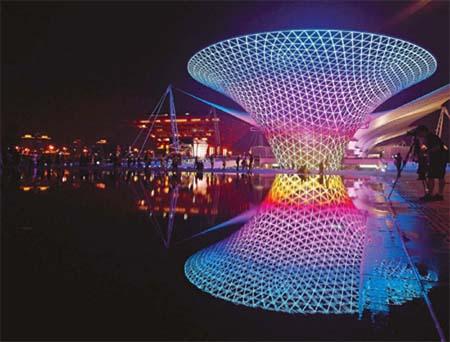 Bright lights and a full moon herald the Mid-Autumn Festival at the Expo.
(Source: China Daily/Yong Kai)
The Expo Garden turns out to be the perfect location for people to enjoy the moonlight, eat moon cakes and hold reunion dinners with families as the Mid-Autumn Festival approaches.
This year, the Mid-Autumn Festival, the 15th day of the eighth month in the Chinese lunar calendar, falls on Sept 22. It is a popular harvest festival celebrated by the Chinese and Vietnamese. It is the date that parallels the autumnal equinox of the solar calendar when the moon reaches its fullest and roundest position.
For generations, moon cakes, the traditional food eaten during the Mid-Autumn Festival, have been made with sweet fillings of nuts, mashed red beans, lotus-seed paste or Chinese dates wrapped in a pastry. In some cases, a cooked egg yolk can be found in the middle of this rich dessert.
Since earlier this month, Expo Garden has been in Mid-Autumn Festival mode, with moon cakes on retailers' shelves and people around the site munching on them as snacks.
"Five series of the authorized Expo Bright Moon moon cakes have been on the shelf at our store since last week. We've already sold thousands of boxes. It is a surprisingly good situation," said Gu Jiqing, the manager of the Shanghai Expo Licensed Products flagship store. It is the only store that sells moon cakes from Chantilly, the sole Expo authorized moon cake supplier, located in Zone B in the Expo Garden.
These moon cakes were specially molded with patterns of the Expo mascot, Haibo, the China Pavilion and the Expo 2010 Shanghai logo.