BEIJING, Sept. 21(Xinhuanet) -- The China Pingyao International Photography Festival began Monday, with thousands of keen photographers and tourists descending on the ancient city to enjoy a week of festivities.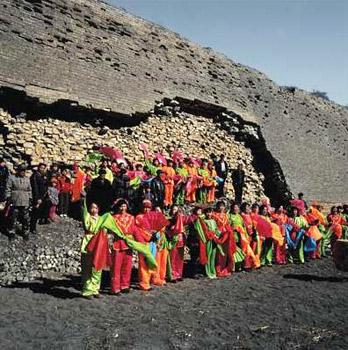 The Yangko Team (Photo source: Global Times)
Now in its 10th year, a total of 160 exhibitions in nine venues are displaying a wide range of works by more than 1,800 photographers from home and abroad.
As one of the most well-known international photography festivals in China, the event initially gained popularity for its spirit of independence and high standard of works. However, since growing exponentially from its humble beginnings, some are criticizing its size and the involvement of the local government, casting aspersions that the authorities are more interested in publicity than maintaining the festival's authenticity.
Losing focus
With the event marking its 10th anniversary milestone, a large-scale retrospective has been meticulously organized, marking the festival's achievements since beginning 10 years ago, with a wide range of photos shown at the inaugural event now once again on display.
However, despite the festival's success, some critics are questioning the ideals behind the event, many commenting that it is no longer a professional gathering within the photography world, but a huge-sized promotion of the city that all people can attended, no matter whether they understand photography or not.
"The old city is very crowded during the festival, but I myself am doubtful about people's real passions toward the festival itself," festival attendee Duan Jixuan told the Global Times. "Of course the local government is quite satisfied with the current situation," he shrugged. "I don't think they would care about what the spirit of photography really is."
On Sunday morning, at the site of the old magistrate's office where the opening ceremony was being held, policemen were forced to move people outside as too many had already gathered in the courtyard and several in the audience were asked to present their identity cards.
"I kind of miss the first few years when the festival was held," Duan said. "There was no such sensation, not so much media attention, just pure photography, sincere communication between you and me."