MATYBULAK RANGE, Kazakhstan, Sept. 25 (Xinhua) -- "Peace Mission 2010," an anti-terror military drill under the framework of the Shanghai Cooperation Organization (SCO), ended with a ceremony here Saturday, opening a new page for cooperation among the member states.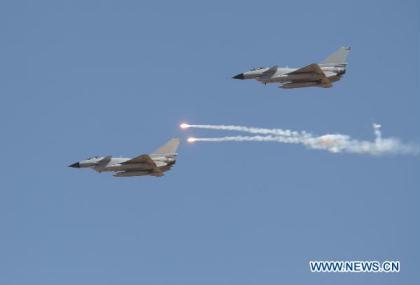 Chinese J-10 fighters are seen during the military exercise preview of
the "Peace Mission 2010", in Matybulak Range of Kazakhstan, Sept. 22,
2010. (Xinhua/Wang Jianmin)
During the 16-day joint drill, 5,000 troops from five SCO members, Kazakhstan, China, Kyrgyzstan, Russia, and Tajikistan (the sixth, Uzbekistan, did not participate), had practiced a variety of maneuvers, deepened their friendship and improved their military cooperation.
From strategic negotiations to live military drills, from Almaty to the Matybulak Range, the participating troops revealed their determination and strength to combat the "Three Evil Forces" -- terrorism, separatism and extremism -- and maintain peace, security and stability in the region.
The drill advanced the cooperation in defense and security under the SCO framework to a higher level.
Despite the overall stable situation in Central Asia, the "Three Evil Forces" still make frequent appearances, with international illegal drug groups, external forces and terrorism organizations colluding to produce disturbances and destroy stability in the region, such as the Uzbekistan riots, which claimed 169 deaths in 2005, and the Urumqi riot in July 2009 in China's Xinjiang region.
All of these show the "Three Evil Forces" remain a common threat to the member states, who need to make concerted efforts to fight them.
The SCO member states attached great importance to Peace Mission 2010, which Kazakhstan proposed to host when the leaders met to view Peace Mission 2007. It was ratified at a defense minister-level meeting in 2008.
It is the seventh joint drill held by SCO member countries and the fourth dubbed "Peace Mission". It had a more mature exercise mechanism, more participation of the member states and exercise settings closer to live battle.
In Almaty, the chiefs of the general staff of the participating armed forces ordered the start of the drill on Sept. 10.
Related stories