UNITED NATIONS, Sept. 25 (Xinhua) -- The lesson learned from the ongoing economic crisis is that the development of the international markets needs not only the invisible hand, but also a global regulating system, Miguel Angel Moratinos, the Spanish foreign minister, said here Saturday.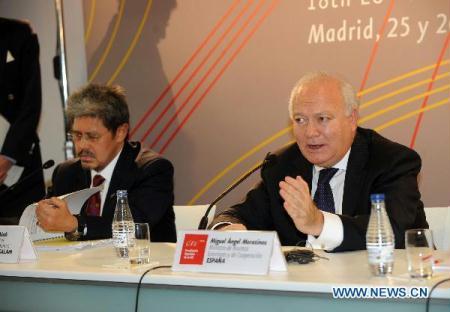 Spanish Foreign Minister Miguel Angel Moratinos (R) speaks during a news
conference in Madrid, capital of Spain, May 26, 2010. (Xinhua File Photo)
"The absence of an international regulation favored the crisis of the financial institutions and has required and enhanced coordination, making the G-20 a new forum for economic governance, " Moratinos said while addressing the general debate of the 65th session of the UN General Assembly.
In his speech, Moratinos called for a more appropriate status for the European Union in the General Assembly.
He also said that "effective multilateralism is the method that will allow us to face the global challenges of the twentieth century."
The Spanish government, together with other member states, has proposed the creation of a tax on international currency transactions to be allocated to the achievement of the Millennium Development Goals (MDGs), the minister said.
"(UN) Secretary-General Ban Ki-moon knows he can rely on Spain in the movement towards achieving the MDGs," he said, calling for "political strong will" as the key to achieving them.
The Spanish minister said that Africa is one of the most important challenges for the international community and for the MDGs, the eight ambitious UN anti-poverty targets to be reached in 2015.
Editor:Xiong Qu |Source: Xinhua