BEIJING - Trade ties and greater energy cooperation will be a priority during Russian President Dmitry Medvedev's visit to China, which started on Sunday, with more than 10 key agreements set to be signed.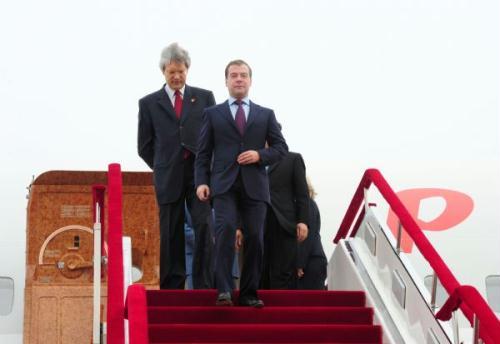 Russian President Dmitry Medvedev (front) arrives in Dalian, a port city in northeast China's Liaoning Province, Sept. 26, 2010. (Xinhua/Zhang Duo)
Medvedev arrived in Northeast China's port city of Dalian, starting his second official visit since assuming the presidency in May 2008.
In recognition of the close ties between the two countries, Medvedev visited a memorial in Dalian commemorating Soviet soldiers who died fighting Japanese invaders in China.
"Friendship with China is Russia's strategic choice, it's a choice that was sealed by blood years ago," Medvedev told Russian and Chinese war veterans, who participated in China's War of Resistance against Japanese Aggression (1937-1945).
"The friendship between the Russian and Chinese people, cemented by the military events, will be indestructible and do good for our future generations," he said.
According to the Russian Information Agency (RIA Novosti), Medvedev will sign more than 10 documents during his three-day visit. "Developing ties with China is one of Russia's foreign diplomacy priorities", the president told the People's Daily before his departure. The relationship with China "has never been characterized with such a high level of trust" like now, he said.
"The most serious attention will be paid to developing trade and economic ties, especially cooperation in the sphere of energy," Medvedev said.
He said he planned to have "a meaningful discussion" in other areas such as scientific-technological cooperation and the environment as well as expanding regional contacts.
Related stories