An exhibition of 150 returned and repaired relics, including porcelain, jade and stonework, has been exhibited for the first time to mark the 150th anniversary of the looting and burning of the Old Palace.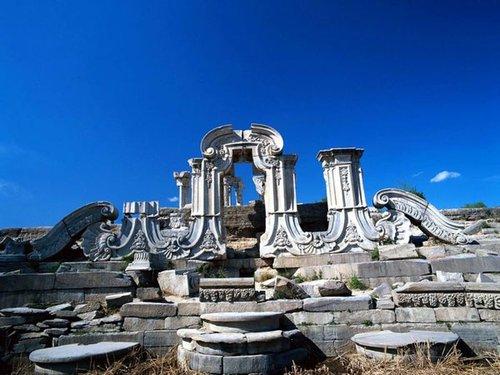 The Old Palace: Yuan Ming Yuan
The Old Palace, known in Chinese as the Yuan Ming Yuan and once famed as the "Garden of all Gardens," has lost a total of nearly 1.5 million relics during the 150 years since it was first destroyed in 1860 by Anglo-French allied forces and then once again burned by the Eight-Power Allied Forces in 1900, Chen Mingjie, director of the palace's management department, said.
"To mark this occasion is not to continue enmity, but to remember history, call for peace and enhance the study of the protection of the Old Palace," Chen said.
All 85 pieces of stonework on display were donated by organizations or citizens and were first opened to tourists in batches.
The earliest returned piece is Liu Lang Wen Ying, a stone gateway lintel, with reliefs depicting warblers singing on the willows and the four Chinese characters that give the piece its name.
This item is one of three pieces discovered and donated by Peking University in 1977 when the university, which is located half a kilometer away from the palace,do the infrastructure construction.
A pair of stones shaped like a dragon head was donated by Chen Da, a Beijing citizen who once lived in a house built from the stones in the park. The pair of stones was once part of base of his house and donated in 2007.
Most elite lost antiques are collected in museums in Britain, France and America, Old Palace official Chen Mingjie said.
The exhibition of relics is one of the four parts of the 150th anniversary commemorative activities, which still includes international academic forums, cultural communication and special evening events.
Movie: Yuan Ming Yuan, Garden of Gardens
Under Five Emperors of 150 years' constructing, Yuan Ming Yuan (The Old Summer Palace) became the largest and most luxurious royal garden in Qing Dynasty, which was regarded as the "real garden of all gardens".
Editor:Li yang |Source: People's Daily