WASHINGTON, Oct. 2 (Xinhua) -- Chinese Americans living around Washington on Saturday gathered in front of the Capitol, enjoying an annual Chinese cultural festival in the heart of the U.S. federal city while snacking on spicy Sichuan food under a clear, sunny sky.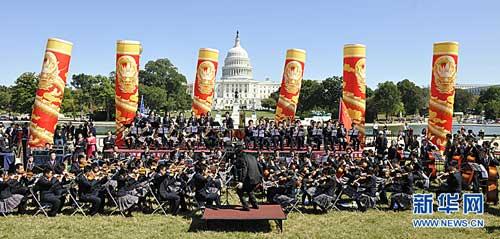 Philharmonic from China's Beijing 101 middle school perform during the Chinese
Cultural Festival held in front of the Capitol Hill in Washington D.C., capital
of the United States, Oct. 2, 2010. (Xinhua/Zhang Jun)
The festival featured traditional Kungfu, music and dance performances. A Chinese restaurant offered traditional Sichuan food to spectators, while they cheered and clapped their hands during the nearly-six-hour show.
The Golden Sail, a symphony orchestra from a Beijing high school, performed at the festival. The over 100 student musicians brought classical works of Bach as well as scores from the Pirates of the Caribbean movies to the audience.
"The kids are delighted to perform here, near the U.S. Capitol, " said Cao Hua, Chief Delegate of Beijing Municipal UNESCO Clubs Association, whose organization sponsored the orchestra's visit to the United States. She said the kids were moved by the Chinese American community's efforts to preserve its cultural heritage.
He Xiaohui, one of the organizers of the festival, said the event featured around 40 performances, with performers ranging from toddlers to pensioners, and the fact that they are here shows their enthusiasm and their love for their own cultural traditions.
"Cultural exchanges bring hearts closer and build the bond for friendship," Zhang Yesui, Chinese ambassador to the United States, said while addressing a ceremony midway into the festival.
He said events such as the cultural festival presented the best of the Chinese culture to the American people, and greatly boosted the cultural exchanges between the two countries, adding a unique color to the diverse American culture.
Secretary of Veterans Affairs of the state of Maryland Edward Chow, whose grandfather came to the United States in the 19th century, said attending the event gave him a chance to get familiar with the culture of his ancestors, which is a great thing.