China Pavilion welcomed its 8 millionth visitor today and gave her a 10-kilogram model of the pavilion.
The model was made of a 1:460 ratio. It was made of metallic material, which is the same as the China Pavilion.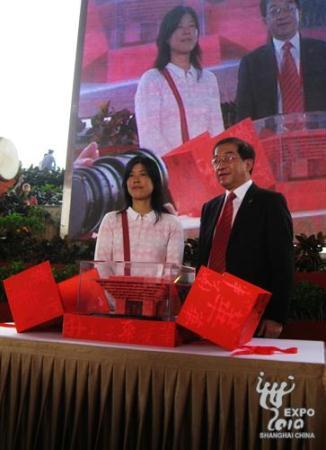 Qian Zhiguang (right), the deputy director of China Pavilion,
gives the lucky visitor a 10-kilogram model of the pavilion.
Yue Ping, the visitor, said that her parents are both Shanghainese and she is working and living in Hong Kong. She felt proud to see Expo 2010 in her hometown, she said.
China Pavilion also specially arranged two dance performances to greet her as well as other visitors waiting.
China Pavilion usually receives 40,000 to 50,000 visitors a day and 56,000 at the peak. The pavilion is expected to receive 9.15 million visitors by the closing of the Expo 2010.
The Pavilion will open to public for six months starting from December 1.
Editor:Xiong Qu |Source: expo2010.cn