NEW YORK, Oct. 11 (Xinhua) -- Tens of thousands of people and more than 100 bands and floats joined the 66th annual Columbus Day Parade on Monday in New York.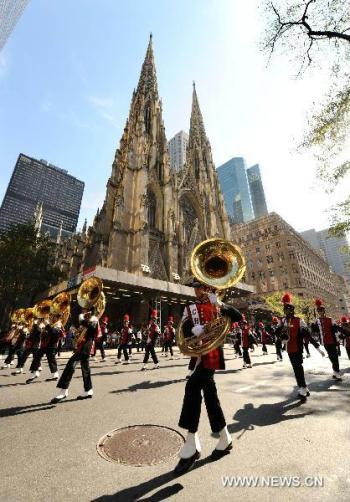 Music band parade along the 5th Avenue in Manhattan, New
York, the United States, Oct. 11, 2010 to celebrate the
annual Columbus Day. (Xinhua/Shen Hong)
The Fifth Avenue of New York was lined with red, white and green as more than 35,000 people and 100 bands and floats marched through during the parade.
The crowds celebrated this day with high spirits as Christopher Columbus was the man who introduced the lands of America to the world in 1492.
Though the holiday primarily honors the discovery of America, the Columbus Day Parade is also the world's largest celebration of Italian-American culture and heritage.
Former Mayor Rudy Giuliani and New York gubernatorial candidates Andrew Cuomo and Carl Paladino -- all Italian-Americans -- attended this year's parade.