BISHKEK, Oct. 11 (Xinhua) -- Five parties have passed the 5- percent threshold at the Kyrgyz parliamentary election, according to the final data obtained through the Central Election Commission 's automated vote count system till late Monday.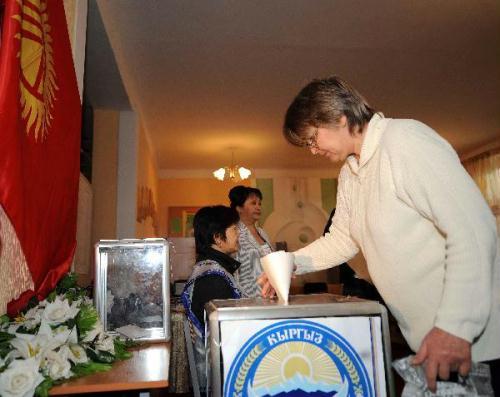 A woman casts her ballot at a polling station during parliamentary election in Bishkek, capital of Kyrgyzstan, Oct. 10, 2010. Voters in Kyrgyzstan headed to poll stations on Sunday to vote in the parliamentary election. (Xinhua/Sadat)
The data shows 100 percent votes from all the 2,333 polling stations were counted, and the final turnout of the popular vote was 55.90 percent.
The Ata-Zhurt party tops at the election with 8.88 percent of the vote nationwide. It is followed by the Social Democratic Party formed by first deputy prime minister Almazbek Atambayev with 8.04 percent of votes.
Former prime minister Felix Kulov's Ar-Namys party came third with 7.74 percent of votes and the Respublika Party 7.24 percent.
The pro-government Ata-Meken party is the fifth one reaching the entrance to the parliament, sharing 5.6 percent of votes.
In all 29 political parties competed for 120 seats in the Kyrgyz new government in which the prime minister will have more power than the president. Analysts have predicted only five to six parties have a real chance to be voted into the parliament.
According to the election rules, seats will be distributed proportionately to parties passing the 5-percent threshold nationwide and at least 0.5 percent in each of Kyrgyzstan's administrative regions and two key cities.
An official of the election commission said earlier on Monday that all the five leading parties have passed the 0.5-percent barrier in every regions necessary to gain seats in the parliament.
Related stories
Editor:Zhang Jingya |Source: Xinhua