SINGAPORE, Oct. 11 (Xinhua) -- A study shows that mobile payments (m-payments) in the Asia Pacific region are expected to record transactions worth more than two-fold, from 2009 revenues of 1.6 billion U.S. dollars, in five years, local media reported on Monday.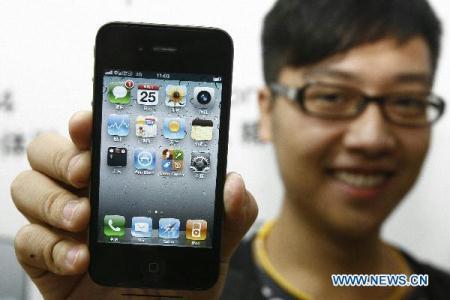 An iPhone 4 owner shows his newly-bought mobile phone at a store in Zhengzhou,
capital of central China's Henan Province, Sept. 25, 2010. (Xinhua File Photo)
The Frost & Sullivan study estimates that in 2015, m-payments could exceed billings of 3.6 billion U.S. dollars, at a CAGR ( compound annual growth rate) of 14.8 percent starting from this year.
However, the study shows that despite a mobile phone penetration rate of nearly 140 percent, Singapore has shown little comparable adoption of m-payments which make use of mobile phones, the Business Times reported.
M-payments in the city-state is driven by the use of smart cards as opposed to via handsets.
The study shows that extensive use of smart cards has resulted in a lack of significant incentives for consumers to switch to mobile payment solutions using the handset.
Editor:Zheng Limin |Source: Xinhua