Beijing, China, October 11 - OCA President Sheikh Ahmad Al-Fahad Al-Sabah described himself very satisfied with the teamwork of the various stakeholders in the 16th Asian Games - but will save his "thank yous" for later. In his speech at the welcome banquet in the Beijing Hotel on Monday evening, Sheikh Ahmad described it as a "sincere honour" to be in Beijing with his OCA colleagues and alongside China's sports leaders such as COC President Liu Peng and IOC Vice President Yu Zaiqing.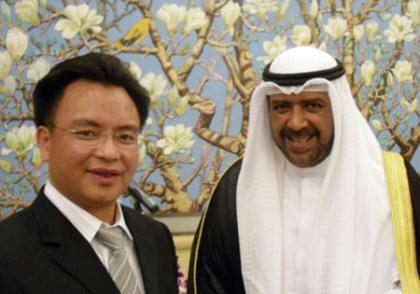 OCA President Sheikh Ahmad is pictured at the welcome banquet on
Monday evening
"We have worked hand in hand for many years to make sure that what we have gathered for today will become true," said Sheikh Ahmad.
"I am very satisfied with the level of cooperation and understanding of all the organisations and bodies involved in the hosting of the 16th Asian Games, and very proud, on behalf of the OCA, to see all the sports leaders in the Olympic movement in Asia and in the Olympic movement in China preparing for the ceremony tomorrow."
Sheikh Ahmad said that it was a tribute to their teamwork that the ceremony would be graced by the presence of His Excellency, President of the People's Republic of China, Hu Jintao, who will start the torch relay.
"There are now 31 days to the opening ceremony and for that we have to double our cooperation and communication to make sure we prepare the best environment for our youth and the athletes of this continent," added Sheikh Ahmad.
"Doha 2006 and all the other Asian Games are still in the memory and played a role in the development of the sports movement in this continent, but now Asia - with the success we made from the Beijing Olympic Games - will start to make another success in Guangzhou.
"I do not want to say thank you to anybody - I am saving my thanks for during the Asian Games!"
To conclude, Sheikh Ahmad said everyone must continue to work hard, like a family and with solidarity for the success of the Games.
"We are here not as a guest but as a partner, and we will stand shoulder to shoulder to make the 16th Asian Games one of the best in history."
Editor:Zheng Limin |Source: ocasia.org