BUDAPEST, Oct. 11 (Xinhua) -- The chief executive of the Hungarian aluminum plant that had a toxic sludge spill last week has been detained and the company will be taken over by the government, Prime Minister Viktor Orban said Monday.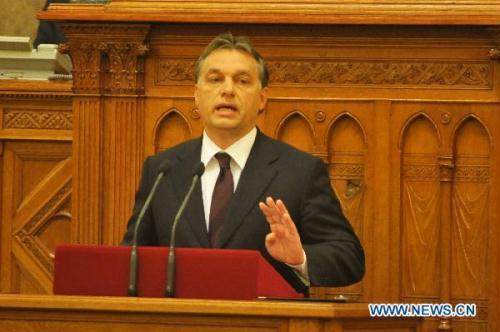 Hungarian Prime Minister Viktor Orban gives a speech in the Parliament in Budapest,
Hungary on October 11, 2010. Orban said the government would take over the operative
and financial management of the Hungarian Aluminum Manufacturing and Trading Company,
MAL and police had arrested the CEO. The Hungarian Aluminum Manufacturing and Trading
Company, owner of the containment reservoir, released one million cubic meters of
alkaline red mud which flooded three villages, killing seven and injuring about 150.
One person continues to be missing. (Xinhua/Dani Dorko)
Orban asked parliament to allow the establishment of a new commissioner in his cabinet to oversee the issue.
The "Disaster Management Commissioner" would have to be authorized to manage all the operations and assets of the Hungarian Aluminum Production and Trading Company (MAL), Orban told parliament.
The commissioner would manage the company until such time as all issues surrounding the disaster are resolved, Orban said. He called on parliament to set up this position before the end of the day.
The spill has left eight people dead and 150 others injured,,and devastated the ecology of the region and local waterways.
Calling the spill the most serious ecological catastrophe ever to hit Hungary, he said his government had to see to it that the victims received compensation, that people working in the aluminum facility kept their jobs, that no further environmental damage occurred, and that responsibility be identified.
Meanwhile, three chemistry and ecology specialists, authorized by the European Union, arrived in Hungary and another two are expected shortly.
They will spend the next three days in the field and announce their conclusions and recommendations on Friday, Disaster Management Authority chief Gyorgy Bakondi told a news conference on Monday.
Related stories