BEIJING, Oct. 20 (Xinhua) -- After five days of workshops and field trips to China's Sichuan Province and the coastal city Tianjin, a training program for young journalists organized by World Media Summit (WMS) secretariat members concluded here Wednesday.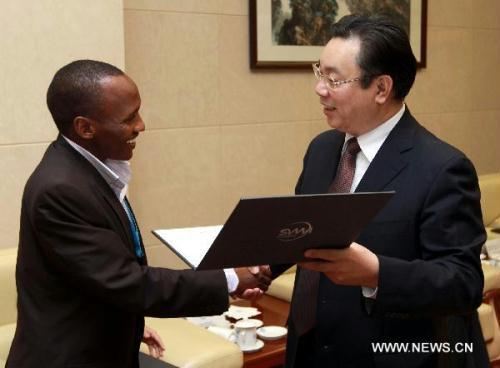 Zhou Xisheng (R), vice president of China's Xinhua News Agency, presents a certificate to a journalist attending the training program organized by the World Media Summit (WMS) secretariat for young journalists from Asia and Africa, in Beijing, capital of China, Oct. 20, 2010.(Xinhua/Pang Xinglei)
Xinhua News Agency Vice President Zhou Xisheng congratulated the 11 young journalists who completed the program while addressing Wednesday's closing ceremony as the representative of Xinhua President Li Congjun, also the executive chairman of the WMS.
Zhou said the program has helped these journalists to deepen understanding of the development of media in today's world, which provides journalists with unprecedented opportunity.
He said he hoped after returning to their countries, the journalists will share the knowledge they have gained to contribute to the betterment of humankind.
Ngomba Efande Peter, a journalist at the Cameroon Tribune and a journalists' representative, said the program was helpful in getting to know about multimedia.
He also said the program was a good opportunity to meet journalists from other cultures.
He also said the young journalists gained a clearer understanding of Chinese efforts to advance cooperation without precondition among developing nations.
The training program began last Monday and attracted journalists from media organizations such as Kenya News Agency, Cameroon News and Publishing Corporation, and Berita National Malaysia.
Professional journalists from Xinhua News Agency, Reuters, Associated Press, Itar-Tass, the BBC, CNN, News Corporation, and Al Jazeera -- all WMS secretariat members -- gave lectures on the challenges reporters face in the new media era, digital news, and objectivity in reporting.
The journalists also got the chance to see the Binhai New Area in Tianjin and post-earthquake reconstruction efforts in Sichuan Province.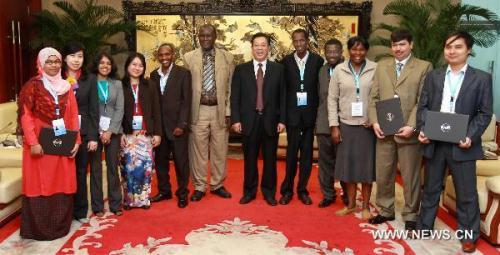 Zhou Xisheng (6th, right), vice president of China's Xinhua News Agency, poses for a group photo together with the journalists attending the training program organized by the World Media Summit (WMS) secretariat for young journalists from Asia and Africa, in Beijing, capital of China, Oct. 20, 2010.(Xinhua/Pang Xinglei)
Editor:Jin Lin |Source: Xinhua