by Syed Moazzam Hashmi
ISLAMABAD, Oct. 20 (Xinhua) -- Life came to a standstill in Karachi with an overnight death toll of 35 people in different incidents of violence in the southern port city of Pakistan, police sources said.
The four-day death toll rose to 80 in the continuing strife in the commercial hub of the country that generates 65 percent revenue of the country and is home to more than 15 million people, local media reported.
Some 350 people have so far been killed in various incident of target killing during this year in Karachi, according to official sources.
Coalition partner Muttahida Qaumi Movement declared Wednesday as a "Black Day" while traders also joined the protest by keeping all the shutters down across the city. Traffic was reported to be very thin and restricted to main roads as the city is still gasping in clutches of terrorism and violent protests, local sources said.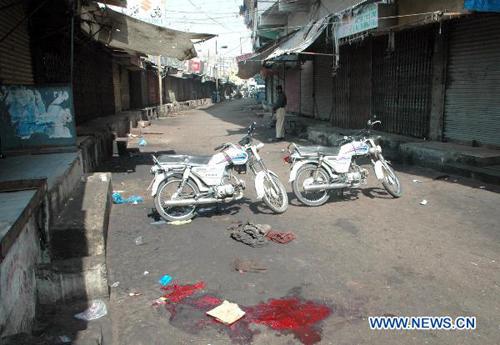 Bloodstain is seen on the ground after a shootout in southern Pakistani port city
of Karachi, Oct. 20, 2010. (XinhuaPhoto/Arshad)
"We businessmen are very much concerned," said Zubair Motiwala, a prominent industrialist of Karachi while recalling Tuesday's killings in which a dozen of businessmen were shot dead by gangsters in a single incident on dispute over charging of " protection-money."
Trouble had enveloped Karachi since Saturday with the boycott announcement by ethnic Pashtun coalition partner, Awami National Party (ANP), a day before by-election for a vacant Sindh assembly seat.
The election was won by Muttahida Qaumi Movement (MQM) with a landslide victory in its customary dominant constituency of Orangi Town. It is coalition partner with both ANP and the ruling Pakistan Peoples Party (PPP).
Related stories