25 year-old US girl Ashley Robertson becomes one of the six panda ambassdors after a keen competition. Her dream finally comes true.
"I really hope to make difference to the pandas. It's natural for me to love pandas, if someone see the video they know my dog's name is panda."
Ashley Robertson started studying pandas at a very young age. Before arriving China,she went through learning courses from caretakers in the US on the habits of pandas.
"I'm really gonna have a chance to make a difference in panda's lives instead just being a spectator. I'm actually gonna be a part of it. I'm gonna had a hand in it. I'm gonna contribute to which has been a life dream of mine. And I come here and I actually work with pandas. So to have this opportunity has been so special." Ashley Robertson said.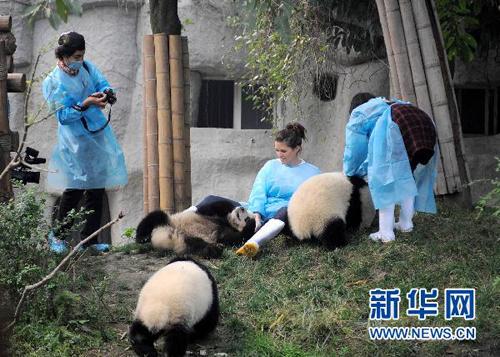 Ashley and other panda ambassadors are playing with pandas in Chengdu Giant Panda
Breeding Base.Oct.20