Chinese classic movie The Winter of Sanmao, or Three Hairs met with an enthusiastic response from the foreign audience on Tuesday night, Oct. 26, 2010, at a Beijing Bar. It was a film salon held by The World of Chinese magazine.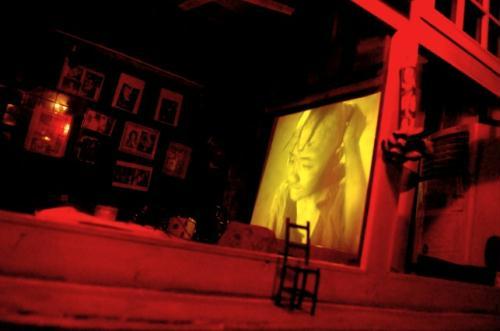 The classic Chinese movie The Winter of Sanmao flashes on the screen on Tuesday
night, Oct. 26, 2010, at a Beijing Bar. (The World of Chinese/Liu Jiang)
The salon aims to promote Chinese black and white movies and make it possible for more people to fall in love with it. Andy Deemer, Managing Editor of the magazine, said, "I love Sanmao, and Chinese black and white movies! They're great!"
Nearly two dozen people were sitting side by side at the salon watching at the thin, starved street orphan in the movie. The film was dark but has moments of humor. From time to time the audience burst into cheer, and laughter was waged. At the time Saomao took a successful revenge against a bad guy, a viewer shouted "yeah" to cheer the poor boy on.
The Winter of Sanmao was the first film to be released in Shanghai after the founding of the People's Republic of China, and it's a dark comedy about an orphan struggling on the streets of old Shanghai. It was adapted from Zhang Leping's popular comic strip, this hilarious movie has won both domestic acclaim and international awards.
In 1983, the film won the Jury Award at the 12th Figueira Da Foz International Film Festival of Portugal, and The Special Mention Award at the 14th Giffoni International Film Festival of Italy in 1984. Wang Longji was recognized as "one of the four greatest child stars in the world" for his excellent performance of Sanmao.

About the magazine:
The World of Chinese is a bi-monthly magazine. It has exciting and in-depth look at China, the Chinese language, and Chinese culture.
Know more about The World of Chinese, go to the official website now>>
Related:
Full text: Andy Deemer's speech at film salon