Related Video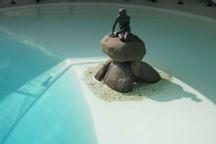 Play Video
COPENHAGEN, Nov. 1 (Xinhua) -- The Danish media reported Monday that the Little Mermaid statue's trip to the Shanghai Expo 2010 has been a great success.
The Copenhagen municipality council last year decided to send the statue on her first overseas trip.
The statue has sat on a rock in the Copenhagen harbor in Langelinie since being forged in 1913. Honoring the famous fairytale character created by Hans Christian Anderson, the Little Mermaid is an icon and major tourist attraction for the city.
Sending the Little Mermaid to China initially encountered some opposition. However, the criticism waned as the Expo proceeded and, with its closing at the weekend, was nowhere to be found.
To the contrary, Copenhagen tourist organization Wonderful Copenhagen is pleased with the marketing that the Little Mermaid has done in China.
"We expect a huge increase in tourists from China. And if we can increase our market share, this might be a really great business," Peter Romer, development vice president of Wonderful Copenhagen, told the national Danish Broadcasting Corporation.
The Little Mermaid will arrive home on Nov. 20.
The Danish pavilion at the Shanghai Expo has, according to a press release from the Danish Ministry of Economy and Commerce, received more than 5.55 million visitors, equal to the entire population of Denmark.
The Danish pavilion was aiming for 3 million visitors. Christopher Bo Bramsen, Commissioner General of the Danish pavilion and former ambassador of Denmark to China, was very happy with the number of visitors.
"The Danish pavilion has been very popular. We have far exceeded our expectations and have reached more than 5.55 million visitors. The reason I underline that number is because the total population of Denmark is 5.55 million," Bramsen told Xinhua.
According to Danish media, this milestone was celebrated by handing a bicycle helmet to an 11-year-old boy at the pavilion.
There has been a concert in the Danish pavilion each week during the Expo, totaling more than 26 concerts. Bramsen is also very satisfied with the administration of the Expo 2010.
Danish Minister of Economy and Commerce Brian Mikkelsen said in the press release: "I am very proud of the Danish contribution at the Expo 2010. This is a unique branding of Denmark in China."
"Despite the event only lasting six months, the effects of this can be seen far into the future," he said.
Editor:Jin Lin |Source: Xinhua