WASHINGTON, Nov. 10 (Xinhua) -- U.S. State Secretary Hillary Clinton on Wednesday reaffirmed U.S. commitment to Iraq as the country's new government is believed to be formed very soon.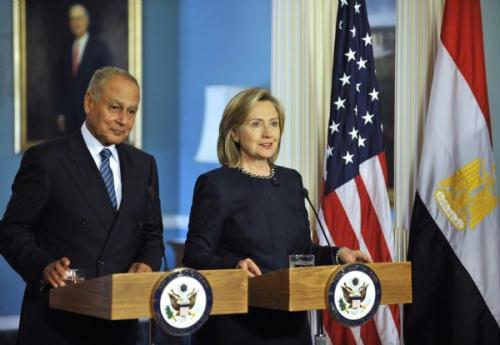 U.S. Secretary of State Hillary Clinton (R) and Egyptian Foreign Minister Aboul Gheit attend a press conference after their bilateral meeting at the Department of State in Washington D.C., capital of the United States, Nov. 10, 2010.(Xinhua/Zhang Jun)
Clinton made the remarks at a joint press conference held with visiting Egyptian Foreign Minister Aboul Gheit.
Clinton said the two discussed the "shared hope that Iraqis will soon form an inclusive government that reflects the interests and needs of the entire Iraqi population and shares power fairly and legitimately."
"Both the United States and Egypt are committed to the future of the Iraqi people and their efforts to build a stable, sovereign and self-reliant nation," said Clinton. "We will continue working closely together to achieve that goal."
Latest reports said Iraq's Sunni-backed Iraqia block agreed to join the new government led by incumbent Prime Minister Nuri al- Maliki. The breakthrough could solve the eight-month political deadlock after Iraq's parliamentary elections.
Editor:Jin Lin |Source: Xinhua