SEOUL, Nov. 11 (Xinhua) -- Chinese President Hu Jintao arrived in Seoul Thursday for the fifth summit of the Group of Twenty (G20), which will address the challenges to the ongoing global economic recovery from a world financial crisis and pave ways for future sustainable and balanced growth.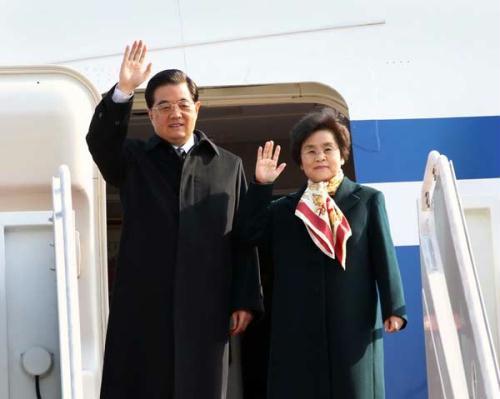 Chinese President Hu Jintao (L) and his wife Liu Yongqing arrive in Seoul, capital of South Korea, Nov. 11, 2010.(Xinhua/Lang Hongguang)
At the meeting, the Chinese president is expected to expound China's stand on major issues to be discussed at the Seoul summit, according to Chinese officials.
With "Shared Growth Beyond Crisis" as the catchphrase of the fifth G20 summit, the leaders are expected to discuss the world economic situation, the "Framework for Strong, Sustainable, and Balanced Global Growth," the reform of global financial institutions, the strengthening of financial regulations, a global financial safety net and development issues.
In a written interview with France's Le Figaro newspaper and Portugal's Lusa News Agency last week, President Hu said that currently, the world economy is recovering slowly but its base is not solid and the process is unbalanced, so big uncertainty lingers.
The world still faces severe challenges before it could escape the shadow of the international financial crisis and return to robust economic growth, he said.
"The G20 Seoul summit should mainly discuss remaining unified to solve the basic problems that triggered the international financial crisis and consolidating the momentum of the world economic recovery," said the president.
In the interview, President Hu put forward proposals aimed at securing the momentum of the world economic recovery, stressing the importance of reforming the international financial system and fighting trade protectionism.
At a press conference last Monday, Chinese Assistant Foreign Minister Liu Zhenmin said that G20 members should enhance coordination on macro-economic policies based on the principle of mutual benefit and win-win results and to send a positive signal that the G20 nations will work together to deal with major economic challenges.