SEOUL, Nov. 11 (Xinhua) -- German Chancellor Angela Merkel said Thursday that it was most important that G20 countries didn't resort to protectionism measures despite current account imbalances among G20 member states.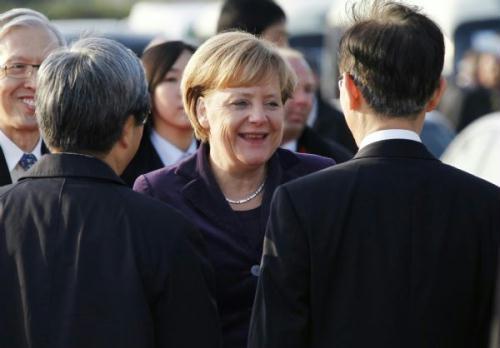 German Chancellor Angela Merkel (C) arrives at the airport in Seoul, capital of
South Korea, on Nov. 11, 2010. The G20 summit will be held in Seoul from Nov. 11
to 12.(Xinhua)
"We think free world trade is all to be in the focus of market players... The current account balances, in the market economic system, are very hard to be influenced by the states. It is not just as you could give instructions to the player in the market," Merkel told a luncheon for some 120 corporate leaders at the G20 Business Summit.
"What's most important is that we do not resort to protectionism measures. I think in this crisis, we have proven that we can do a lot of things better before," she said through an interpreter.
"We should make sure not to go to protectionism measures. Rather we should continue to pursue the Doha Round and its conclusions.... This summit is to give a very clear message and support to the conclusion of the Doha Round," she said.
The Doha Round talks are on the agenda of the G20 Seoul summit due to start on Thursday. Leaders of major developed and emerging economies are expected to give a new impetus to the negotiations, but no breakthrough is within reach.
Members of the World Trade Organizations (WTO) started the Doha Round of global trade talks in 2001, with a mandate to help poor countries prosper through more trade, but the negotiations have long been stalled because of sharp differences among major members over agricultural trade and industrial market access.
Deadlines previously set for conclusion of the round had been repeatedly missed.
Merkel also said it was necessary to reduce excessive current account imbalances, but it was unnecessary to set a numerical target for them.
"We must work consistently for the goal of achieving sustainable growth of the world economy and we must resolve the issue of current account imbalances through such growth," she said.
The two-day Business Summit was the prelude to the G20 Seoul Summit, which would gather leaders of world's major countries, including the U.S., China, Russia, France, Britain, Brazil and Germany. The Seoul summit would start later on Thursday.
Collectively, the G-20 economies comprise 85 percent of global gross national product and 80 percent of world trade, including EU intra-trade.
Related stories
Editor:Du Xiaodan |Source: Xinhua