SEOUL, Nov. 11 (Xinhua) -- Chinese President Hu Jintao met with his South Korean counterpart Lee Myung-bak on Thursday to discuss bilateral ties and other issues of common interest.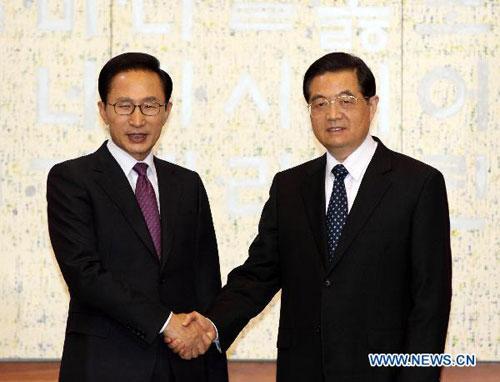 Chinese President Hu Jintao (R) meets with South Korea's President Lee Myung-Bak in Seoul, capital of South Korea, Nov. 11, 2010. (Xinhua/Lan Hongguang)
The Chinese president is in Seoul for a summit of the Group of 20, which is slated for Thursday and Friday.
Sino-South Korean cooperation has been increasingly strengthened in various areas, including politics, economy and culture, since the bilateral strategic partnership of cooperation was established in 2008.
The two countries have also maintained good coordination and cooperation in tackling major international and regional issues.
Hu and Lee met on the sidelines of the G20 summit in Toronto in June. Hu said during their meeting that the two countries should earnestly implement the joint research report on medium- and long-term development planning in economic and trade cooperation, launch talks on a free trade zone as soon as possible, facilitate economic and trade cooperation and boost cooperation in some key sectors.
Regarding bilateral trade, Hu suggested that the two sides should try to reach the 200-billion-U.S.-dollar target by 2012 and the 300-billion-dollar goal by 2015.
At present, China is South Korea's largest trading partner while South Korea is China's third largest one. In 2008, the two-way trade was registered at 186 billion dollars. But the bilateral trade declined to 156 billion dollars in 2009 due to the financial crisis.
In the first nine months of this year, the trade between the two countries reached 151 billion dollars, an increase of 36 percent over the corresponding period last year.
Editor:Zhang Pengfei |Source: Xinhua