SEOUL, Nov. 11 (Xinhua) -- Chinese President Hu Jintao held bilateral talks on Thursday with the presidents of South Korea, the United States and Russia, respectively, to discuss bilateral relations as well as regional and international issues including global economic recovery.
The meetings took place after Hu arrived in Seoul earlier in the day for the summit of Group of 20 (G20) major economies in Seoul.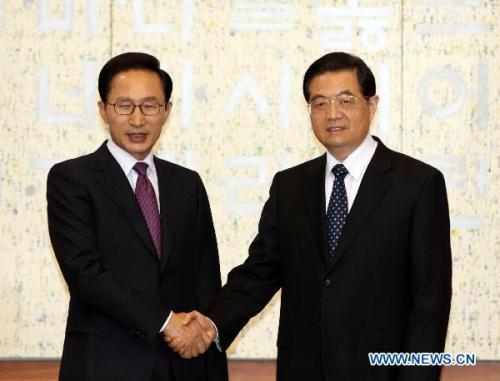 Chinese President Hu Jintao (R) meets with South Korea's President Lee Myung-Bak
in Seoul, capital of South Korea, Nov. 11, 2010.(Xinhua/Lan Hongguang)
RELATIONS WITH SOUTH KOREA
Welcoming President Hu, South Korean President Lee Myung-bak said he believed China would play an important role in promoting international economic cooperation within the G-20 framework.
The two presidents reached a consensus on further strengthening the bilateral relations and on how to successfully hold the G-20 summit.
The healthy and stable development of China's economy is very important to the development of Asia and also to the recovery of the world's economy, Lee said.
The South Korean president also voiced hopes for the two countries to strengthen their exchange activities with an aim to increase mutual trust and further develop their bilateral strategic partnership.
Hu said the Seoul G-20 summit is the first to be held in an Asian country and also in an emerging market economy.
Hu stressed that China and South Korea are important neighbors and partners and that China is willing to work with South Korea to advance the bilateral strategic partnership into a comprehensive one.
Hu said China has always supported the improvement of relations between the Democratic People's Republic of Korea and South Korea.
"China is willing to play a constructive role in this regard," he said.
Lee expressed his appreciation for China's efforts in maintaining peace and stability on the Korean Penisula.