LOS ANGELES, Nov. 11 (Xinhua) -- Passengers began disembarking a disabled cruise ship which had been pulled to San Diego Bay by tugboats early Thursday.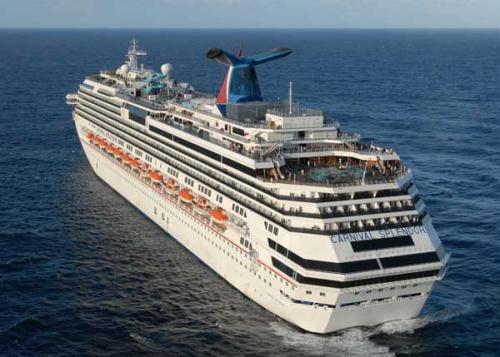 The Carnival cruise ship C/V Splendor sits adrift approximately 150 miles
(278 km) southwest of San Diego, November 9, 2010, in this photograph released by
the U.S. Navy. (Xinhua/Reuters Photo)
As Carnival Splendor reached the bay, an official aboard the boat said that both passengers and crew were coping well with the "obvious challenges."
There are no reports of injuries among the passengers or crew, authorities said.
"Thank you for your understanding, and we hope you come back real soon," a contrite voice blared over a ship loudspeaker that could be heard clearly from the shore, according to the Los Angeles Times.
An Arizona told CNN that conditions were especially difficult for people in the inner cabins, who didn't have the benefit of natural light coming in through windows.
A CNN footage showed that a sizable crowd of waiting relatives and friends jammed the dock area along with the news media and curious lookers-on.
Two ambulances rolled up near the ship, presumably as a precaution.
Carrying 3,299 passengers and 1,167 crew members, the ship became marooned in the Pacific about 150 miles (240 kilometers) south of San Diego, Southern California on Monday after an engine room caught fire.
The blaze erupted after the ship departed from Long Beach, about 35 miles (56 kilometers) south of Los Angeles.
The 952-foot luxury liner was on the first leg of a seven-day Mexican Riviera tour when the accident occurred.
The decision to tow the luxury liner into San Diego instead of the initial emergency destination of Ensenada, Mexico, came Tuesday afternoon, said Carnival Cruise Lines, which owns the ship.
Gerry Cahill, president and CEO of the Florida-based cruise line, offered his regrets for the ordeal suffered by the passengers on the ill-fated voyage.
"They signed up for a great cruise vacation, and obviously that is not what they received," Cahill told reporters. "I would like to thank our guests for the patience and understanding they have shown in this very difficult situation, and we offer our very sincere apologies."
Many of the customers had to endure hot, stuffy staterooms, and some elected to seek relief by sleeping in open-air deck areas set aside by the crew for that purpose, Cahill said.
The stranded vacationers will get full refunds along with reimbursement for transportation costs, according to the company. Additionally, each will receive a complimentary future cruise equal to the amount paid for the aborted voyage.
Those who had been scheduled to sail on the ship's next voyage also will receive a refund of their fare and any air- transportation costs, along with a 25 percent discount on a future cruise.
The normal itinerary of the Splendor, which entered service in July 2008, includes stops in Puerto Vallarta, Mazatlan and Cabo San Lucas, Mexico.
Editor:Jin Lin |Source: Xinhua