ATHENS, Nov. 11 (Xinhua) -- Greek shipyard workers demonstrated in the center of Athens on Thursday afternoon over unemployment, as the rate in all economy sectors across Greece has increased to record high, according to the latest data released by the Greek Statistical Authority.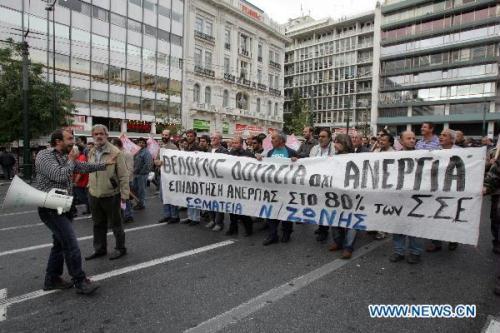 Greek shipyard workers demonstrate against unemployment and denounce the
austerity measures introduced by the Greek government in front of the Finance
Ministry in the centre of Athens Nov. 11, 2010.(Xinhua/Marios Lolos)
Hundreds of employees in the shipyards of Perama near the Greek capital marched in front of the Finance Ministry, denouncing the austerity measures introduced this year, as the country faces a severe debt crisis.
Protesters who request a special unemployment allowance of up to 1,200 euros (around 1,640 U.S. dollars) for their jobless colleagues, briefly scuffled with police which used tear gas
The protest was staged, as the Greek Statistical Authority announced on Thursday that the unemployment rate in Greece has jumped to record high 12.2 percent in August. It is the highest figure recorded since January 2007, since the authority started to estimate the jobless rate on a monthly basis.
According to the official data, the number of employed all over Greece stood at 4.3 million this August and unemployed at 613,108.
In July 2010 unemployment stood at 12 percent, while in August 2009 at 9 percent. According to the budget draft of 2011 the jobless rate will reach 14.5 percent next year and 15 percent in 2012.
Greek labor unions expressed agony that the percentage will exceed the 20 percent in the following months, as the country is hit hard by recession.
Greece narrowly escaped bankruptcy this spring and secured a multi-billion euro financial aid package from the International Monetary Fund and the European Union over a three-year period in exchange of painful austerity policies which have met strong reactions of part of Greek society.
The country was hit by a wave of general strikes and demonstrations this year over cutbacks on salaries, pensions and tax hikes to shrink the budget deficit from 13.6 percent in late 2009 to less than three percent in 2013.
The umbrella union of private sector employees called for a new 24-hour strike on Dec. 15 over these austerity policies amidst scenarios for a new round of harsh measures in the coming months, according to a statement released on Thursday.