SEOUL - The leaders of China and the United States struck a positive note as they met in Seoul on Thursday just hours ahead of the G20 Summit opening.
Experts believe their relationship will provide a boost for the summit that will have to deal with a number of disagreements among its members.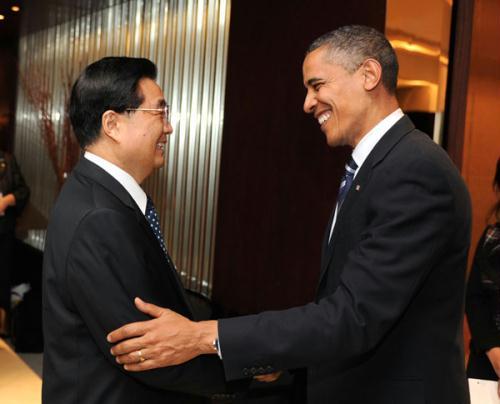 President Hu Jintao and US President Barack Obama warmly greet each other
before discussing a number of topics on the sidelines of the G20 Summit in Seoul,
the Republic of Korea, on Tuesday.(Liu Jiansheng/Xinhua)
President Hu Jintao and US President Barack Obama held an 80-minute talk in the Republic of Korea capital just hours before the opening reception banquet.
The meeting came at a time when a number of issues, including the world economy and the US seeking involvement in China's regional relations, have risen to the surface.
"China hopes the US can follow a positive and constructive China policy, which is conducive to stabilizing and developing bilateral ties," Hu said on Thursday.
US Secretary of State Hillary Clinton said in July that it is in the US national interest to resolve maritime disputes in the South China Sea. China believes that such disputes should be solved in a bilateral framework between China and the countries involved.
Obama's trip to Asia has also been widely interpreted as aiming to contain China's increasing influence in the region.
Against the backdrop of profound and complicated global changes, it will be conducive for both countries and their people to jointly face increasing challenges through mutual trust, Hu said.
As bilateral ties are facing new opportunities, Hu pledged that both sides should seize the opportunity, advance cooperation, and maintain a positive momentum.
It was Obama's seventh meeting with Hu, the most he has had with any foreign leader since the start of his presidency in January 2009 - a record the White House says shows how highly Obama values their relationship.
Obama described the bilateral relationship as becoming stronger over the last several years, as the two countries discussed world and bilateral issues.
In their last bilateral meeting before Hu embarks on a US visit early next year, Obama said that it is of the utmost importance to the US to ensure the visit's success.
According to Zhu Feng, a professor at Peking University's School of International Studies, the primary significance of the meeting is that the two leaders sent positive signals as there are some sensitive issues in their bilateral ties.