Sheikh Ahmad Al-Fahad Al-Sabah, President of Olympic Council of Asia (OCA) opened the 56th OCA Executive Board meeting at the Garden Hotel in Guangzhou on Friday (November 12) morning. Saying he was "very happy and honoured" to be in the City of Flowers for the 16th Asian Games from November 12 to 27, Sheikh Ahmad thanked the Guangzhou government, the central government, the Chinese Olympic Committee, organising committee GAGOC, the citizens of Guangzhou and all the volunteers for their hard work in preparing for the success of the 16th Asian Games.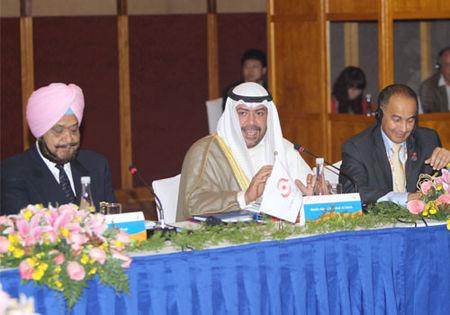 Olympic Council of Asia President Sheikh Ahmad Al-Fahad Al-Sabah opens the
56th OCA Executive Board meeting.
"We have been working hard, shoulder to shoulder, with our friends and colleagues in the organising committee of the Guangzhou Asian Games just to prepare a good environment to start our Asian Games," said Sheikh Ahmad.
"I am very satisfied with all the hard work that has been done by this city and the central government, and I would like to thank the National Olympic Committees, the International Federations and the Asian Federations for their cooperation and participation in our Games."
Sheikh Ahmad said the Asian Games signalled the gathering of the sports movement of Asia, including athletes, officials and media, and "everybody who loves sport".
He added: "We can feel that Guangzhou will be one of the best Asian Games, and the presence of His Excellency Jacques Rogge, IOC President, shows the full support, as always, of the International Olympic Committee. We also welcome our friends from Olympic Solidarity and appreciate what has been done for us."
Looking ahead to the 29th OCA General Assembly, the OCA President said the gathering of the Asian sports family would display the unity and solidarity of Asia, which he described as "the secret of Asia's success".
Sheikh Ahmad said the Asian Games was appreciated by other continents, and the recent meeting of NOCs in Acapulco, Mexico, recognised the activities of the OCA.
Editor:Jin Lin |Source: gz2010.cn