A recent dry spell at the top level has hit its nadir this year. Indonesia came away empty-handed from the Thomas and Uber Cups in May and the World Championship in August, and so far it has two titles in 10 Super Series events this year.
Given the unprecedented lack of success, Indonesia head coach Christian Hadinata is realistic about his team's chances in Guangzhou.
"The realistic target for us is bronze," he told the Jakarta Globe. "I like our chances of reaching the semifinals, but I don't know about getting past China. They're still the best in the world."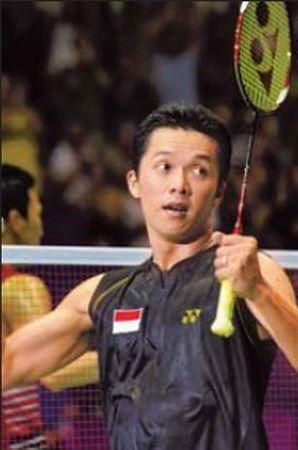 Taufik Hidayat is Indonesia's major medal hopeful
in the badminton competitions.
Indonesia won the men's team bronze at the 2006 Asian Games in Doha, losing 3-1 to eventual gold medalist China in the semifinals. It opens against India or Chinese Taipei in the quarterfinals and faces a possible semifinal clash with China.
Hopes for individual success are not much brighter. Indonesia's two men's singles entries, Taufik Hidayat and Sony Dwi Kuncoro, could end up facing heavyweights Lee Chong Wei of Malaysia and Lin Dan of China in the semifinals.