NEW YORK, Nov. 23 (Xinhua) -- U.S. stocks tumbled on Tuesday as concerns on the conflict in Korean Peninsula and contagious risks in European countries weighed down the market.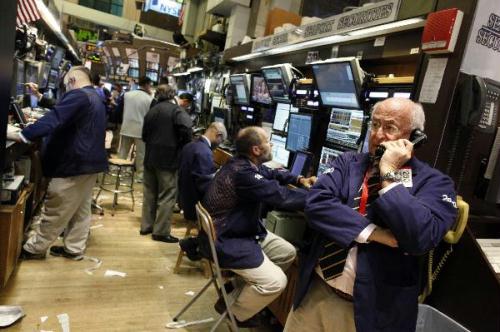 Traders work on the floor of the New York Stock Exchange November 23, 2010.
(Xinhua/Reuters)
All three major indexes ended about 1.3 percent lower. Hewlett- Packard was the only one finished the session in positive territory among Dow's 30 components, after the company released better-than-expected results late Monday.
Selling was across the board after media reported that South Korea and the Democratic People's Republic of Korea (DPRK) on Tuesday exchange fires in waters off the west coast of the Korean Peninsula.
Meanwhile, contagious fears on the European debt problems were still lingering in the market. Investors were worrying that countries like Portugal and Spain would also have to seek financial help.
U.S. economic data came in mixed, adding pressures to the market.
The Commerce Department said before the opening bell that the third-quarter gross domestic product growth was revised up to an annualized rate of 2.5 percent from previously estimated 2.0 percent.
A separate report from the National Association of Realtors showed sales of previously owned homes dipped 2.2 percent last month to a seasonally adjusted annual rate of 4.43 million units, weaker than analysts had expected.
Further adding to the pressure, the Federal Reserve released the minutes from its November meeting, which showed policymakers clashed over the benefits and risks of launching a 600-billion- dollar program to rejuvenate the economy. Although still voting for the plan, some members showed concerns on inflation and currency risks the economy might face after more quantitative easing measures.
What's more, Fed officials also lowered their economic expectations for 2011, while at the same time raised its unemployment estimates for the next two years.
The Dow Jones industrial average declined 142.21 points, or 1. 27 percent, to 11,036.37. The Standard & Poor's 500 index slid 17. 11 points, or 1.43 percent, to 1,180.73 and the Nasdaq was down 37. 07 points, or 1.46 percent, to 2,494.95.