Guangzhou, November 24 - Guangzhou Shotgun Centre saw the start of Trap and Skeet events of the Guangzhou Asian Games Shooting on November 18. Sheikh Ahmad Al-Fahad Al-Sabah, President of the Olympic Council of Asia (OCA), praised that it is really perfect for eco-friendly livings, recreations and sports here.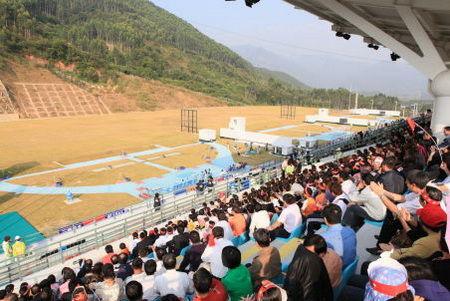 Guangzhou Shotgun Centre in Zengcheng
Located in the White Waterfall of Zengcheng, Guangzhou Shotgun Centre is famous for its excellent environment, fully showing off the idea of a Green Asian Games. "After the Asian Games, it will be built into a scenic spot integrating leisure and sports as well as introducing some new recreational sports like the fire balloon and paramotor by taking advantage of landscapes and natural resources of the White Waterfall. By that time, it will be not only a venue for large-scale sporting events, but also a name card of recreational sports for the White Waterfall," said Ou Yonghong, Director of the Guangzhou Shooting & Archery Management Centre.
Around 100 to 200 tickets are distributed to nearby villagers free of charge on a daily basis by the Venue Team at Guangzhou Shotgun Centre so that local residents can also enjoy thrilling events and be part of the Guangzhou Asian Games.
After the Guangzhou Asian Games, Guangzhou Shotgun Centre will be used as a training base for the Chinese National Shooting Team and Guangdong Shooting Team during winters, and will be available to the public as a Shooting & Archery sports centre. Guangzhou will also put forward development of the tourism industry for the Games competition venue, which is supposed to bring prosperity to surrounding areas finaly.
Editor:Jin Lin |Source: GAGOC