DUBLIN, Nov. 24 (Xinhua) -- The Irish government on Wednesday published a four-year recovery plan that involves a record budget cut of 15 billion euros (about 20 billion U.S. dollars) over the next four years in order to reduce the country's deficit.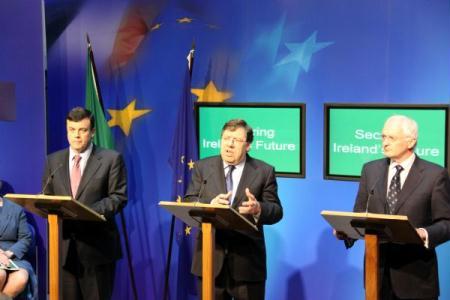 Irish Prime Minister Brian Cowen (C) addresses a press conference in Dublin,
Ireland, on November 24, 2010. The Irish government presented Wednesday a
four-year austerity plan outlining 15 billion euros in savings, a key step
towards securing an international bailout. (Xinhua/Xiong Sihao)
The four-year plan includes 6 billion euros (about 8 billion dollars) in spending cuts next year and another 9 billion euros (about 12 billion dollars) between 2012 and 2014.
It also includes income tax increases, deep cuts in social welfare expenditures and a reduction of 10 percent or more in the minimum wage, one of the highest in Europe.
The plan, described as a "blueprint for a return to sustainable growth in our economy," was unveiled by Prime Minister Brian Cowen, Finance Minister Brian Lenihan and Environment Minister John Gormley.
The government has already made clear that an "adjustment" of 15 billion euros (about 20 billion dollars) will have to be made over the next four years.
The plan confirms that 10 billion euros (about 13 billion dollars) will be saved by way of cuts in spending and 5 billion euros (about 7 billion dollars) by way of tax increases.
According to the plan, the government will reduce the cost of the public sector pay and pensions bill, social welfare, and public service programs, and achieve savings in social welfare expenditure of 2.8 billion euros (about 3.7 billion dollars).
The government will cut public service staff numbers by 24,750 from the levels of the end of the year 2008, back to levels last seen in 2005, said the plan, adding that overall payroll adjustments of 1.2 billion euros (1.6 billion dollars) by 2014.h The plan will introduce a reformed pension scheme for new entrants to the public service and reduce their pay by 10 percent, the plan said.
Measures including reducing the minimum wage by 1 euro (1.3339 dollars) to 7.65 (10 dollars), will create 90,000 jobs during the course of the plan, according to the plan.
Editor:Xiong Qu |Source: Xinhua