BEIJING, Nov. 24 (Xinhua) -- China and Cuba pledged Wednesday to take the opportunity of the 50th anniversary of bilateral ties to advance their relations to a new high.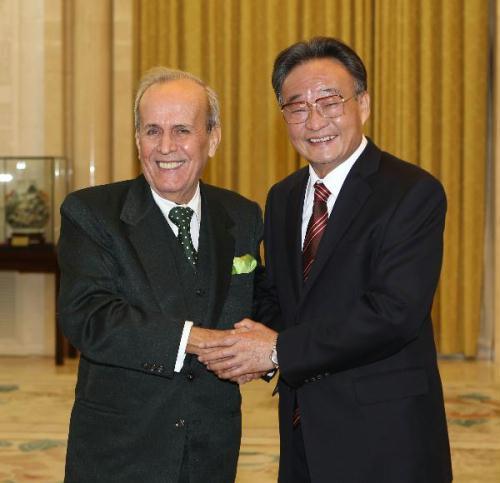 Wu Bangguo (R), chairman of the Standing Committee of China's National People' s
Congress, meets with Ricardo Alarcon de Quesada, president of the Cuban National
Assembly of People's Power, in Beijing, Nov. 24, 2010.(Xinhua/Liu Weibing)
The pledge was made during top Cuban legislator Ricardo Alarcon de Quesada's meetings with Chinese leaders in Beijing Wednesday.
Alarcon, president of the Cuban National Assembly of People's Power, is on a six-day visit to China.
During the talks with Alarcon, Wu Bangguo, chairman of the Standing Committee of the National People's Congress (NPC), China's top legislature, said China and Cuba enjoyed a deeply-rooted political foundation to develop ties, which were highlighted by mutual respect, mutual support and collaboration.
This year marks the 50th anniversary of the establishment of China-Cuba diplomatic ties, China was ready to take this opportunity to enhance cooperation with Cuba, in a bid to push forward bilateral ties, Wu said.
In 1960, Cuba was the first Latin American nation to forge diplomatic relations with China.
Wu also expressed the hope for closer ties between the two legislative bodies, saying China was willing to engage with Cuba on issues concerning governing and administration, as well as reform and innovation.
Alarcon said it was critical for Cuba to enhance bilateral ties with China, and Cuba was ready to draw on China's development experience in reform and opening up.
"The Cuban political party, government and people were proud of the Cuba-China friendship and China's development," he said.
Prior to the talks with Wu, Alarcon also met with top Chinese political advisor Jia Qinglin.
Jia, chairman of the National Committee of the Chinese People's Political Consultative Conference (CPPCC), said China paid great attention to the bilateral friendship of cooperation and was ready to further the ties to a new high.
He also expressed appreciation of Cuba's consistent support on issues concerning Taiwan and Tibet, and said China supported Cuba's adherence to the socialist road.
"The Cuba-China friendship has withstood the rapidly changing world, and radiates new vitality," Alarcon said.
Alarcon will conclude the trip on Friday.
In 2009, China was Cuba's largest supplier of capital goods and consumption commodities.