MOSCOW, Nov. 24 (Xinhua) -- Visiting Chinese Premier Wen Jiabao met with Moscow Mayor Sergei Sobyanin here on Wednesday, expressing hope that Moscow could create favorable conditions for Chinese companies to establish businesses.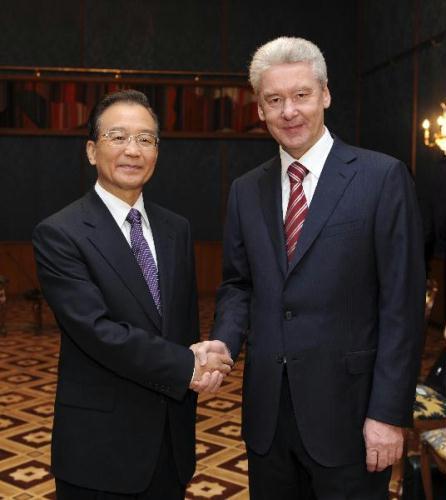 Chinese Premier Wen Jiabao (L) meets with Moscow Mayor Sergei Sobyanin in
Moscow, capital of Russia, Nov. 24, 2010.(Xinhua/Xie Huanchi)
"Prime Minister Vladimir Putin and I both agreed to tap the huge potential of cooperation between the two nations at local level," Wen told Sobyanin, acknowledging the good cooperation on trade, education and culture established between Beijing and Moscow.
"I hope the two capital cities could continue to play a leading role to promote China-Russia cooperation," Wen said, voicing support for Moscow's effort to regulate the two-way trade order and the "grey clearance."
"Grey customs clearance" involves intermediaries handling customs clearance for bulk commodities loaded onto planes or trucks. It was allowed by Russia in 1990 when the country desperately needed daily necessities.
Echoing Wen's views, Sobyanin said Moscow is committed to working with Beijing and other Chinese cities and provinces to step up cooperation on reshaping bilateral trade structure as well as on finance and technological innovations.
Sobyanin, the 52-year-old former deputy prime minister, was picked by President Dmitry Medvedev on Oct. 21 to replace Yuri Luzhkov, who had served as Moscow's mayor for 18 years.