BEIJING, Nov. 24 (Xinhua) -- Senior Communist Party of China (CPC) official Liu Yunshan met in Beijing Wednesday with a delegation of the Peruvian political party Fuerza 2011, led by Ex-President Alberto Fujimori's daughter Keiko Fujimori.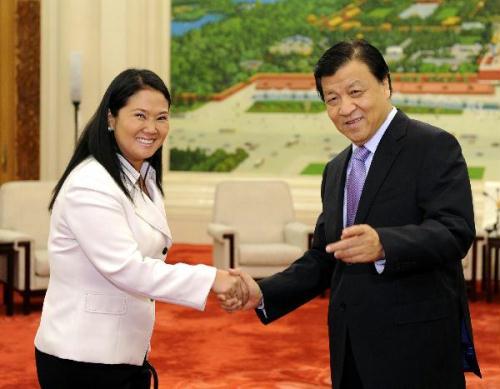 Liu Yunshan (R) meets with Keiko Fujimori, chairwoman of the Peruvian political
party "Fuerza 2011", in Beijing, capital of China, Nov. 24, 2010.(Xinhua/Li Xueren)
Liu spoke positively of the development of Sino-Peruvian ties in recent years, noting that the establishment of the bilateral strategic partnership in 2008 signalled bilateral relations had entered a new phase.
Liu, who is a member of the political bureau of the CPC Central Committee and also chief of the Publicity Department of the CPC Central Committee, said the CPC was willing to develop friendly relations and cooperation with Fuerza 2011 on the basis of independence, equality, mutual respect and the principle of non-interference in each other's internal affairs.
He hoped exchanges between the CPC and Fuerza 2011 would boost the development of the bilateral relations.
Fujimori, who is chairwoman of the Peruvian party, Fuerza 2011, said her party hoped to forge and develop friendly relations with the CPC.
She also hoped Fuerza 2011 would share experiences with the CPC in state-governing and administration, and jointly push forward the bilateral strategic partnership.
Editor:Jin Lin |Source: Xinhua