BEIJING, Nov. 24 (Xinhua) -- China would like to work with other governments and international organizations to assure positive results at the upcoming Cancun climate change conference, Chinese Vice Premier Li Keqiang said Wednesday.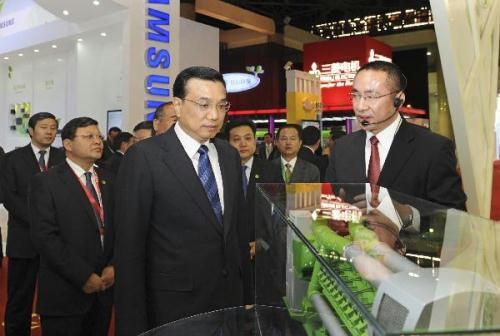 Chinese Vice Premier Li Keqiang (L front) views an exhibit as he visits the China
International Green Industry Expo 2010 (CIGIE) in Beijing, capital of China,
Nov. 24, 2010. The expo kicked off here on Wednesday.(Xinhua/Rao Aimin)
Li made the remarks during the China International Green Industry Expo 2010, which was scheduled to run from Wednesday to Saturday in Beijing.
"With an open and constructive attitude, China will promote international cooperation in green industry and combat climate change, as well as push forward trade, investment, technology cooperation and transfer," Li said.
He also said that China would continue importing advanced international technologies and equipment in the fields and share market opportunities to provide mutual benefits.
The development of green economy and green industry would rely on technological and institutional innovation. "Enterprises should speed up technological progress and focus on making breakthroughs in key technologies and promote industrialization, commercialization and mass production of these technologies," noted Li.
The four-day expo has attracted more than 200 enterprises from 25 countries and regions. It is designed as a platform for enterprises to exchange information and display their latest achievements in areas such as energy savings, emission reductions and the recycling-based economy.
Editor:Jin Lin |Source: Xinhua