Watch Video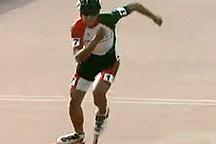 Play Video
Roller skating was introduced at the Asian Games for the first time as an official event. Iran has sent a team to take part and Mohammed Salehi is one of the best speed roller skating athletes in his country.
Mohammed was careful when making final preparations for the Men's 300 metres. The young Iranian has been training for several years, but still managed to look a little nervous. His coach also felt the lack of confidence, and tried to ease his tension. One of Mohammed's team mates and two friends from home were there to cheer the athlete on.
Mohammed's nerves got the better of him and he jumped the start signal in the race. Things wouldn't get much better for him either and he somehow slowed down going through corners. He finished in 7th out of eleven skaters.
Though disappointed with his result, Mohammed was looking ahead to his next race, The Men's 500 metres. He is just hoping for some rest and a way to overcome nerves. Whatever the outcome, participation and accumulating experience are an Iranian sporting tradition. Mohammed will be dreaming of Gold until the next race day.
Editor:Jin Lin |Source: CNTV.CN